Since it is December, there is no better time for a giveaway, right?  'Tis the season!  Today I am thrilled to share my thoughts about a couple of great soy protein products:
The NoGii Kids bars are great for packing for school snacks or a quick snack before heading to a sports game or practice.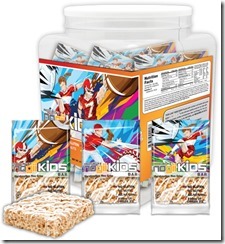 More about the NoGii Kids bars:
"KIDS LOVE THESE BARS! Packed with nutrition and loaded with great taste-NoGii Kids is the ultimate healthy snack for our kids with premium protein, quality carbohydrates, fiber, and Omega 3's. You can feel certain that this bar is ALL-NATURAL with NO GLUTEN, NO NUTS, and NO HIGH FRUCTOSE CORN SYRUP. NoGii Kids-The Smart Choice for a Smart Snack."

INGREDIENTS: Soy Protein Crisps (Soy Protein Isolate, Tapioca Starch), Marshmallow Creme (Sugar, Brown Rice Syrup, Crystalline Fructose, Invert Sugar, Water, Egg Albumen, Agar, Gum Arabic, Natural Flavor), Brown Rice Syrup, Organic Brown Rice Crisps (Organic Brown Rice, Organic Brown Rice Syrup, Sea Salt), Rice Syrup Solids, Maize Dextrin (Dietary Fiber), Organic Canola Oil, Organic Agave Syrup, Whey Protein Isolate, Organic Palm Oil, Vanilla Yogurt Drizzle (Sugar, Fractionated Palm Kernel Oil, Whey Powder, Nonfat Dry Milk Powder, Cultured Whey, Soy Lecithin [emulsifier], Vanilla), Vegetable Glycerine, Natural Flavors, Sea Salt, Soy Lecithin, Mixed Tocopherols (Natural Vitamin E), Purified Stevia Extract, Lo Han Extract.
A3 bars also make great snacks and are made with Manuka honey!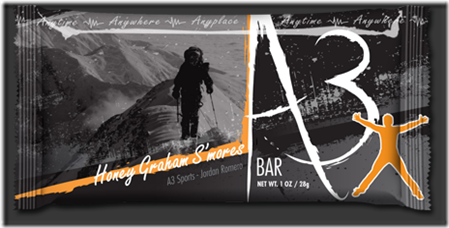 More about A3 bars:
When you're standing on the verge of something spectacular, you need to make sure your body is fueled for success. The last thing you want is to crash or hit the wall, nutritionally speaking. A3 will help you over that wall and get you ready to push it to the edge. When your sport is demanding, you should demand top fuel for your body. A3 Action Snax are formulated to shock the taste buds and give you uncompromised critical nutrition, when you need it and where you need it. Ingredient list.
I really enjoyed both bars and this super-cool insulated cooler I received: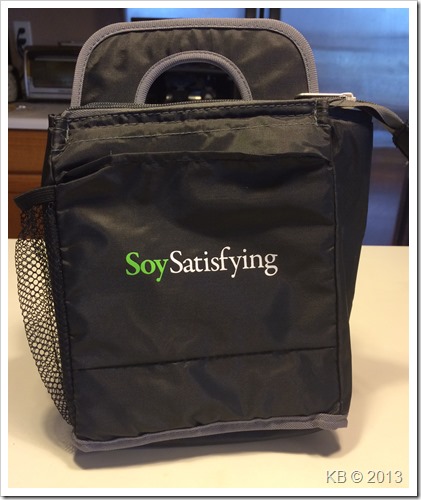 A little more about soy protein:
· Soy protein is a high‐quality, plant‐based protein derived from soybeans

· Soy protein supports healthy growth and development

· Because of its ability to impact satiety, soy protein can help in managing a healthy weight in children

· Soy protein is a healthy alternative for children with milk, egg or peanut allergies

· Incorporating high-quality proteins, such as soy protein, into children's diets supports immune health
DuPont Nutrition and Health has graciously offered to provide one lucky reader with a gift pack that includes one A3 Honey Graham S'mores bar, one Nogii Kids Chocolate Chip bar, and one "Soy Satisfying" Lunch Cooler.  There will also be a coupon for a Morningstar Farms product, but they are NOT gluten-free, so feel free to pass along to a friend.  All you have to do to enter to win is follow the instructions in the Rafflecopter box below.  Good luck!
*The products, information and two gift packs have been provided by DuPont Nutrition and Health.  All thoughts and opinions are my own.