I am a big fan of NuGo protein bars, so when I heard they debuted a new bar, I was excited to try it. The new bar, NuGo Stronger, is a higher protein bar with no soy ingredients.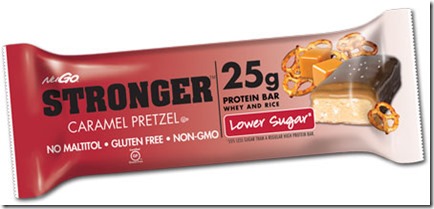 The NuGo Stronger bars come in four different varieties:
More about the bars:
Hormone-free whey protein
25-27g of quality protein
No soy protein
Lower sugar (no maltitol)
Non-GMO
Certified Gluten-Free
High fiber (12g)
Of course I quickly fell in love with these bars.  The Caramel Pretzel is my favorite…the perfect combination of sweet and salty. What a perfect way to refuel after a tough workout!  NuGo Nutrition products can be purchased online or in stores across the US and Canada.  Look for NuGO STRONGER to hit stores in early Spring 2014.   More about NuGo Nutrition:
Our mission at NuGo is pretty simple:

To help people make better snack choices without compromising on flavor. We never use hydrogenated oils or trans fats in our products and, unlike our competitors, we never use waxy vegetable fat compounds in place of real, delicious chocolate. We use only all natural, top quality ingredients like real milk chocolate and antioxidant-rich real dark chocolate to make our bars the best tasting, healthiest options available.

NuGo is an independent food company dedicated to producing the finest, healthiest, most delicious products.  NuGo is the fastest growing Lifestyle Brand in the Natural Foods category.

Today NuGo makes 7 different kinds of bars. We continually respond to our customers' requests for new and improved nutritional products with exceptional flavor and taste. Healthier choices from the nutrition-conscious folks at NuGo will be at a store near you soon with more products debuting each year.

Our headquarters are in Pittsburgh, PA with additional offices in San Francisco and New York.
Have you tried the new NuGo Stronger bars?  What about any of the other NuGo Nutrition bars?
*The products mentioned in this blog post were sent to me free of charge for review purposes.  The thoughts and opinions shared here are mine and have not been influenced by anyone or anything.