It was just last week that I learned about Gigi's Cupcakes offering gluten-free cupcakes on Fridays. I quickly placed an order so that I would be able to pick them up on Friday and continue my birthday celebration.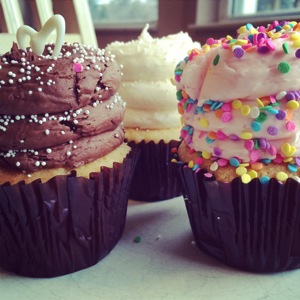 There are three different varieties of gluten-free cupcakes offered:
White Hot Chocolate
Birthday Surprise
Wedding Cake
When I went to pick up my cupcakes I was told that they could make any variety they had in the case gluten-free as long as that variety didn't contain cookie dough or alcohol.
The cupcakes came packaged in this super-cute box: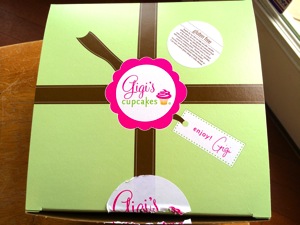 Both Jon and I quickly fell in love with these cupcakes! Aside from having more frosting than I like on my cupcakes, they were perfect in every other way. The cakes were moist, icing had a great flavor and no one would be the wiser if you didn't tell them these were gluten-free.
Gigi's Cupcakes has locations around the US. Gluten-free orders can be placed online or over the phone. Each Gigi's location is individually owned, so if you have specific questions about the location closest to you, give them a call. Each gluten-free cupcake costs $3.25, which is the same price as the non-gluten-free cupcake.
Have you tried Gigi's Cupcakes?  It is so nice to have this option right up the street from our house.