Gluten-free pretzels are a staple in our house.  I have always loved pretzels, so when I first started the gluten-free diet, I was bummed that I either couldn't find gluten-free pretzels or they were ridiculously expensive.
Glutino has several variety of gluten-free pretzels on the market, including Chocolate Covered, Yogurt Covered and Peppermint Yogurt Covered . The newest pretzel variety to join the Glutino family is the Honey Mustard variety.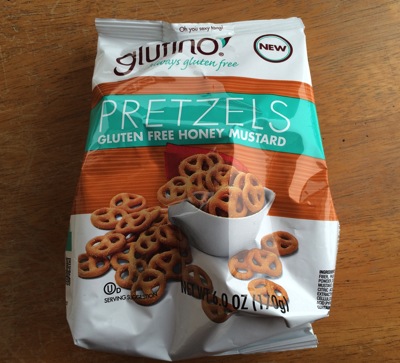 I used to love Honey Mustard pretzels and to be honest, I was just happy I could eat pretzels gluten-free, I didn't think much about missing the Honey Mustard variety until I heard about these.
Glutino graciously sent me a bag to sample and I couldn't wait to dive in.  They are every bit as good as I remember, if not better!  WOW…these pretzels have such a wonderful honey mustard flavor!
Ingredients: Corn starch, potato starch, rice flour, soluble corn fiber, palm oil, canola oil, honey mustard seasoning (sugar, onion powder, dextrose, salt, maltodextrin, hydrolyzed soy protein, prepared mustard (distilled vinegar, mustard seed, salt, turmeric), dry honey, citric acid, spice, vinegar solids, canola oil, torula yeast, turmeric extractives, tricalcium phosphate, acetic acid, natural flavor), sugar, cellulose gum, soy lecithin, yeast extract, sodium bicarbonate, sodium acid pyrophosphate, salt, citric acid. Contains soy.
These may be my new favorite snack! They are the perfect addition to a deli-style turkey and cheddar sandwich.  Glutino products can be purchased in grocery and health food stores across the US or online.
Have you tried the new Glutino Honey Mustard Pretzels?
*The product reviewed in this blog post was sent to me free of charge for review purposes.  The thoughts and opinions shared here are mine and have not been influenced by anyone or anything.