Gluten-free bread is not easy to perfect. Often times the gluten-free bread that is found in grocery stores is small in size and crumbly. Glutino fans loved their bread, but they have made it even better! The White and Multigrain breads got a recipe and packaging makeover.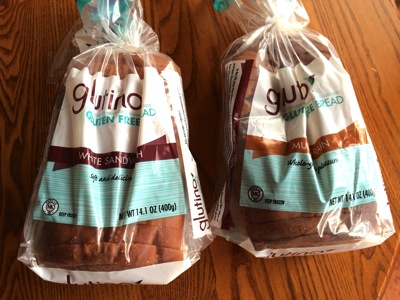 These loaves of bread arrived on my doorstep last week. I left them on my counter and decided the best way to sample them was to eat them at room temperature, straight from the bag. I was very impressed with both the White and Multigrain varieties; they are both soft and flavorful and pretty darn close to what I remember gluten-full bread tasting and feeling like. The instructions say to freeze the bread unless it will be eaten within the next week and a half, so I haven't tried the bread toasted from the freezer yet. I really enjoyed an old fashioned PB & J without having to toast and cool the bread. 
White Bread Ingredients: Water, potato starch, cornstarch, canola oil, tapioca starch,egg white, rice bran, carboxy methyl cellulose, sugar, yeast, xanthan gum, white rice flour, salt. Contains eggs.

Multigrain Bread Ingredients: Water, modified tapioca starch, corn starch, potato starch, canola oil and/or safflower oil, egg whites, brown rice flour, tapioca starch, sugar, molasses, salt, yeast, xanthan gum, glucano-delta-lactone, flax seed, sunflower seeds, sodium bicarbonate, caramelized sugar, modified cellulose, calcium sulphate, enzymes. Contains eggs.
The new & improved Glutino Bread can be found in your grocer's freezer. To find a store close by, visit the store locator on the Glutino website.
*The products mentioned in this post were sent to me free of charge for review purposes. The thoughts and opinions shared here are mine and have not been influenced by anyone or anything.