I am so loving the salad challenge! Today I had a salad for lunch that consisted of just spinach, grape tomatoes & pine nuts with a drizzle of Light Creamy French dressing. This doesn't really count in my salad challenge as it doesn't meet all my "requirements".
For dinner I had a more hefty salad to go along side my Thai Peanut Marinated Chicken breast, okra & sauteed grape tomatoes & whole grain buckwheat (First time I had it and it was very good. Much nuttier than brown rice and there is 5 grams of protein & 5 grams of fiber per serving!). My salad tonight is similar to last night's salad….I enjoyed those blackberries so much in last night's salad, they had to make another appearance.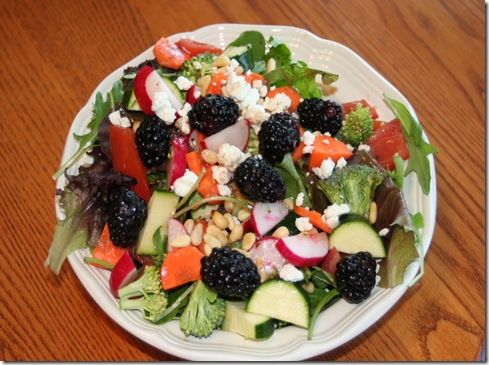 ~ 2-3 handfuls of Spring Mix & Arugula
~1 chopped Roma Tomato
~ 1/2 chopped zucchini
~chopped carrots
~chopped radishes
~chopped broccoli
~1TBSP or so of organic raw pine nuts
~1TBSp or so of goat cheese
~ drizzle of balsamic vinaigrette
~handful of blackberries
I think the only differences from last night were that I forgot my cucumber (DOH!) and I added broccoli. I promise tomorrow will be more interesting. 😉 We are having Calzones for Jon's b-day dinner, so it will go along with our Italian theme.