Are you all set for the big football game tomorrow? Some people are more excited about the commercials than the game itself. Some people may not care about said game or commercials. What about you? Do you watch from home? Go to a friend's house? Head to the closest sports bar that serves gluten-free food? If you watch from home or are going to a friend's house, there are all kinds of different gluten-free food ideas. Some people like to make chili and serve with cornbread, chips and adult beverages, while others prefer pizza, subs or a variety of appetizers. 
Crunchmaster, America's #1 selling brand of gluten-free cracker, has some great party appetizer and snack recipes and ideas. Check out the two recipes below for some mouthwatering appetizers.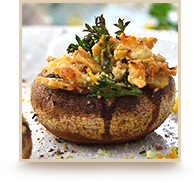 White Cheddar Stuffed Mushrooms

By: Amie Valpone 

Ingredients

½ cup Crunchmaster White Cheddar Multi-Grain Crackers, crushed
¼ cup grated Pecorino Romano cheese
2 oz. soft goat cheese, crumbled
2 garlic cloves, peeled and minced
¼ cup chopped fresh parsley
¼ tsp. sea salt
¼ tsp. freshly ground black pepper
2 Tbsp. olive oil
28 large white button mushrooms, stemmed 

Directions

1.      Preheat the oven to 400 degrees F. Prepare a large baking dish with nonstick baking spray.

2.      Stir the Crunchmaster Crackers, Pecorino Romano, goat cheese, garlic, parsley, sea salt and pepper and olive oil in a large bowl; mix well to combine.

3.      Stuff the filling into the mushroom cavities and arrange on the baking sheet.

4.      Bake until the mushrooms are tender, approximately 25 minutes.

5.      Serve warm.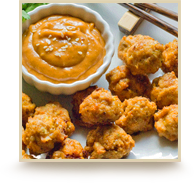 Chicken Meatballs

by Carol Kicinski 

Ingredients

1 cup Crunchmaster Sea Salt Multi-Grain Crackers
1 pound ground chicken1 one-inch piece fresh ginger, grated or finely minced
2 small garlic cloves, grated or finely minced4 scallions (green onions), finely minced
2 tablespoons gluten free soy sauce
½ teaspoon freshly ground black pepper1 large egg, lightly beaten 

Directions

Preheat oven to 400 degrees. Spray two baking sheets with gluten free, non-stick cooking spray and set aside. Grind the Crunchmaster crackers in a blender or food processor to fine crumbs. Pour into a large mixing bowl and add the remaining ingredients. Mix to combine. Shape into small balls using about one tablespoon of mixture per ball. Place on the prepared baking sheets and spray the meatballs lightly with gluten free, non-stick cooking spray. Bake for 15 minutes or until the meatballs are browned and feel firm to the touch. Remove the meatballs to a plate lined with paper towels to absorb any extra fat. Serve with your favorite gluten-free barbecue sauce or Thai peanut sauce. Makes about 30 meatballs.
However you prefer to watch the big game (or spend your Sunday evening) and whatever snacks or meals you decide to enjoy, have fun! 
*Recipes provided courtesy of Crunchmaster. Look for Crunchmaster crackers in stores across the US.