While eating donuts daily is not something I advise, I do like a treat every now and then. Katz Gluten Free makes a pretty spectacular Gluten-Free Glazed Donut, so I have no doubt this new variety is equally as tasty. The new donut variety is one I can't wait to try… Sea Salt Caramel Glazed!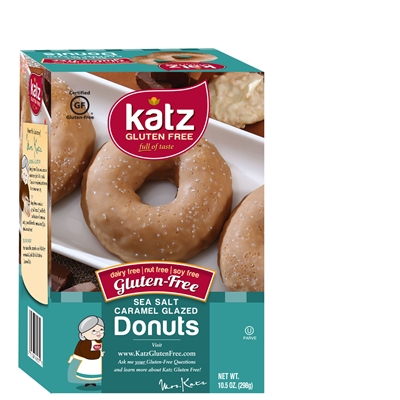 Ingredients:Gluten Free Flour (white Rice, Corn Starch, Tapioca), Eggs, Water, Palm Oil, Canola Oil, Sugar, Baking Powder, Xanthan Gum, Baking Soda, Salt, Natural Caramel extract , Confection Sugar, Agar, Calcium Carbonate.
The donuts are free of dairy, soy, and nuts in addition to gluten. If you aren't familiar with Katz Gluten Free, take the time to browse their website and consider ordering a free sample pack. I also happen to be a huge fan of their bagels, English muffins, and pies (blueberry is my favorite!).
Do you have a favorite Katz Gluten Free product? If so, what is it?