After years of trying to find a solution that worked for meals on busy nights, when the family doesn't always eat at the same time, I think I may have finally found one. I have been playing around with my meals and sharing them on Instagram and my Facebook page for the past few weeks. I have received several requests for the recipes, but that's the thing…I haven't been using recipes! The meals are simple, quick and healthy, cooked with limited ingredients.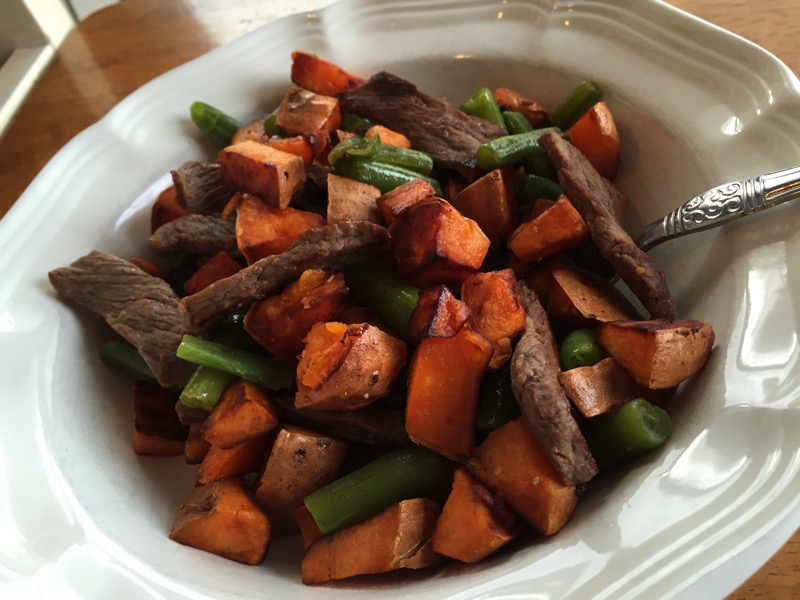 Sliced sirloin with sautéed sweet potato and frozen green beans
I simply choose a protein, a carbohydrate and a vegetable and get to work. To help simplify things even more, I use frozen vegetables (many come in packages you can pop right in the microwave). Fresh vegetables are another great option, though prep can be time-consuming, so do all of your prep on the weekend or a day when you have the time. As far as prep for the protein, there are several different options. When steak, chicken or pork is on sale, I will buy it and either prep or freeze right away. For prepping my protein, I will trim and slice into bite-size pieces and then freeze in individual portions. This makes it very easy to pull as many servings out as I like and the meat cooks faster when it is sliced in smaller pieces. Leftover protein (pulled pork, ribs, salmon etc) also work great and only need to be heated and tossed in with the rest of the ingredients. Depending on which carbohydrate you choose, there are different ways to prep. Sweet or white potatoes can be cut up, partially cooked in microwave and then sautéed to finish off. Rice can be cooked in bulk and then refrigerated or frozen in individual portions. Pasta can be cooked in bulk and the refrigerated for up to 5ish days.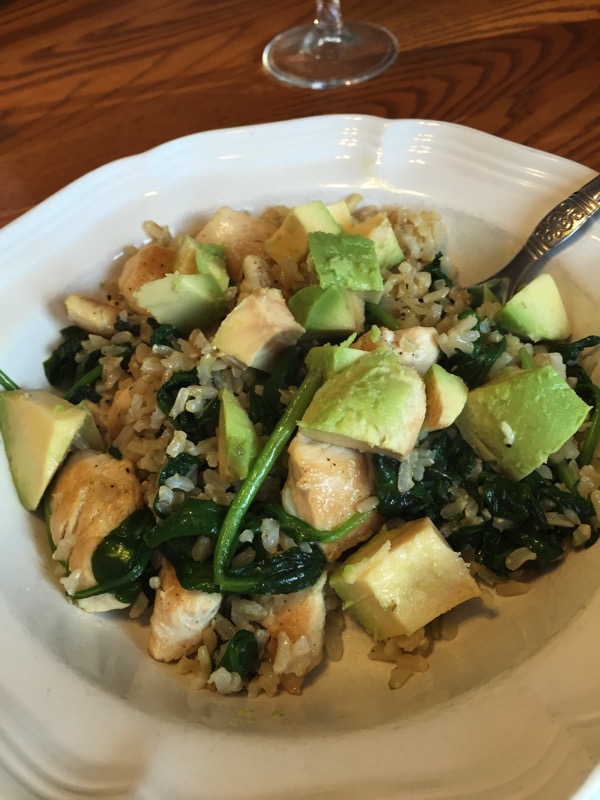 Brown rice, chicken breast and fresh spinach topped with avocado
As far as cooking goes, I choose the ingredient that will take the longest and start there. I use a little bit of EVOO or grapeseed oil and cook until desired doneness. Sometimes I remove the single ingredient while I am cooking another and then add back together for seasoning at the end. My basic seasonings are sea salt and fresh ground pepper. This can be tweaked per individual based on likes/dislikes.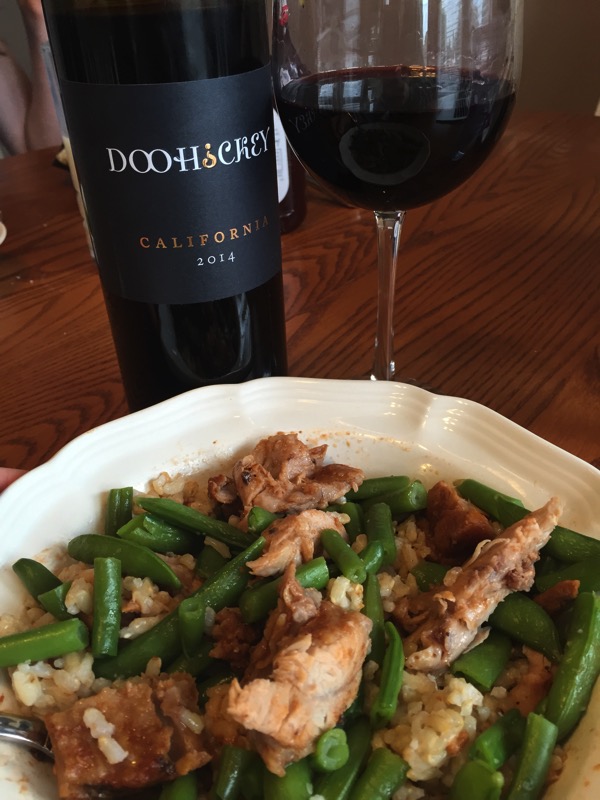 Leftover BBQ ribs, coconut brown rice and green beans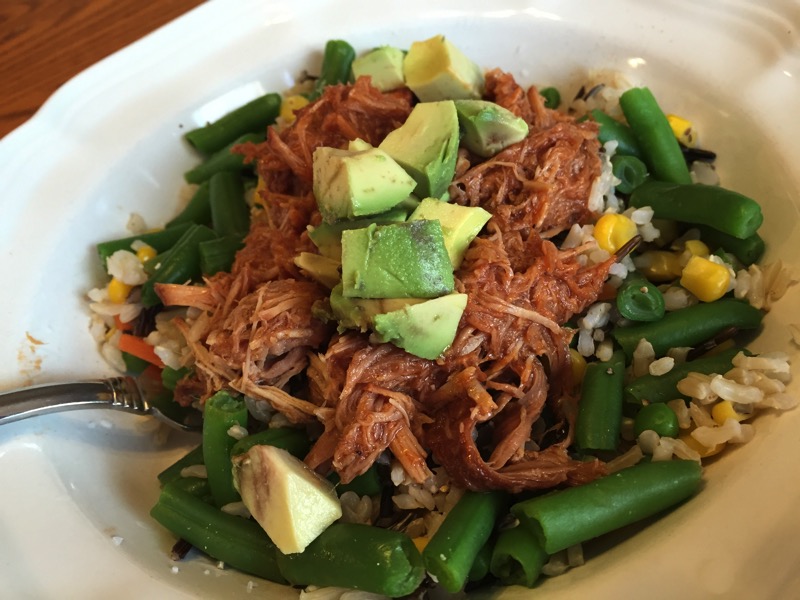 BBQ pulled pork, brown rice w/mixed veggies and green beans topped with avocado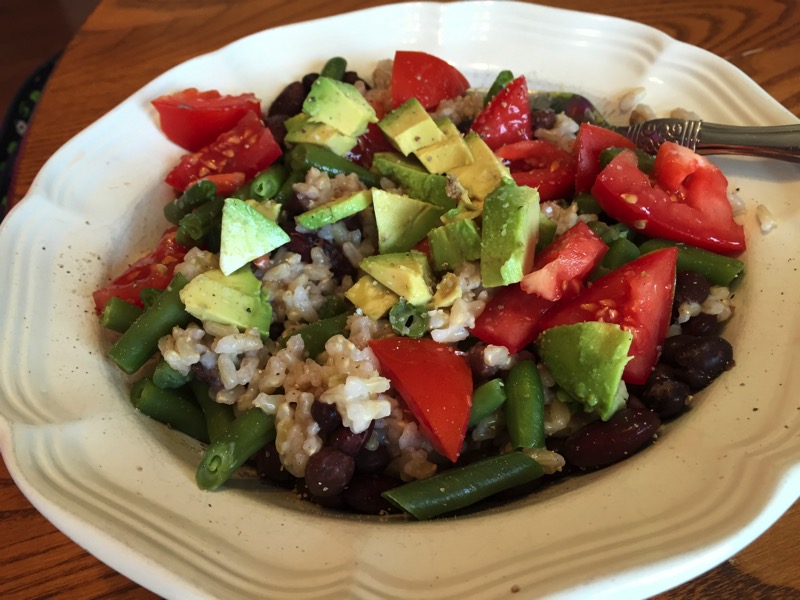 Coconut brown rice with black beans and green beans topped with tomato and avocado
Suggested options:
Protein
Salmon
Chicken breast
Pulled pork (leftover)
Tilapia
Steak
Tuna
Beans (black, pinto, kidney or a variety)
Carbohydrate
Potato (sweet or white)
Gluten-free pasta
Brown rice (I love to cook mine in canned lite coconut milk for extra creaminess)
Quinoa (again, love to cook this in canned lite coconut milk)
Vegetables (fresh or frozen)
Zucchini
Green beans
Roasted carrots
Sugar snap peas
Okra
Spinach
Mushrooms
Kale
Tomato
Corn
Toppers
Avocado
Salsa
Pico de gallo
Marinara
Soy sauce 
The key to success with Mix & Match Meal Bowls is to choose the ingredients that you (or your family) like and will be easy for you to prepare. There is no shame in cutting corners and using frozen, canned or pre-cut food. We have cut back significantly in the amount of take-out meals since I have been doing this. Not only is this saving us money, but it is healthier, too. Don't get me wrong, there are still nights when everyone is eating something different and eating at different times, but there are always staples around to make a Mix & Match Meal Bowl, even if the picky kids don't put all of their food together in one bowl.