It has been a long time since I have sat down to plan out our meals for the week. Things have been busy for us between Jon finishing up his first year of college, Hannah finishing up seventh grade and our working with a trainer for our dogs. This is all in addition to our "normal" life, of course. There has been more take-out meals than I like, but what is done is done and today is a new day. I have been slowly trying to get back into the swing of meal planning and feel I have laid a good foundation for this week. Here is the plan:
Monday – Tacos and/or taco salad, refried beans, corn
Tuesday – Pulled pork (sandwiches, wraps, salads, etc), sugar snap peas
Wednesday – Leftovers or breakfast for dinner (fried eggs on toast with avocado and sea salt), fresh green beans
Thursday – Gluten-free pasta with marinara and salad
Friday – NY Strip steak, baked potato, sugar snap peas
Here is the taco salad I had this evening for dinner. It was the first one I have had since going dairy-free (started about 8 weeks ago) in addition to gluten-free.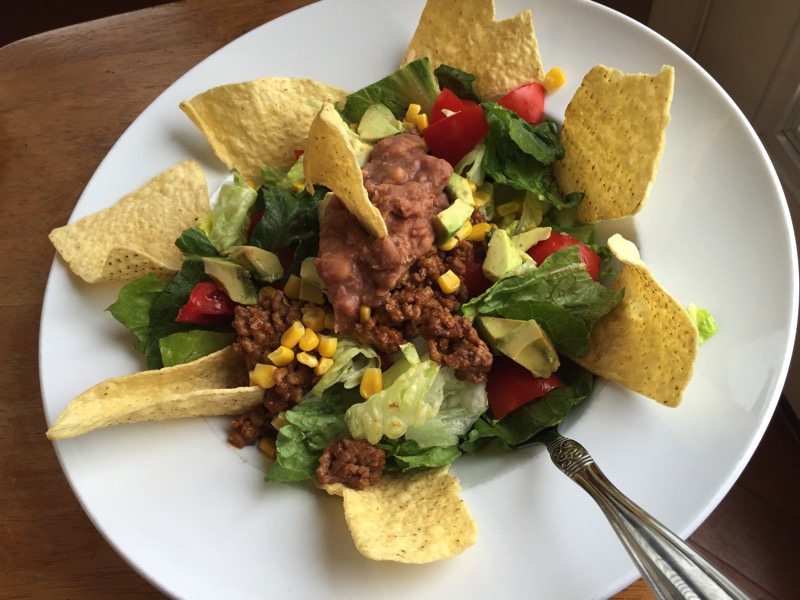 I used Romaine lettuce, chopped Roma tomatoes, corn, avocado, taco meat, refried beans and tortilla chips. I drizzled a little bit of Kraft French dressing over the top before I dug in. So good! 
Hope you have a good week! 
PS…Head over to Celiac-Disease.com to enter to win a box of Qrunch Veggie Burgers.