As I was surfing the net looking for information on gluten-free flours, I just came across this awesome website by Conagra Mills and their new product Ancient Grains. Ancient Grains is a new gluten-free flour blend that will soon be available to commercial bakeries & manufacturers! How exciting is that? Sadly Ancient Grains won't be available to buy at your local grocery store, but hopefully in some of the products on those very shelves soon!
The other day I mentioned Champagne Grapes in my post. I have been enjoying these numerous ways, but I think my fav, by far, is on my salad. Here is a picture of the most awesome salad I had the other night: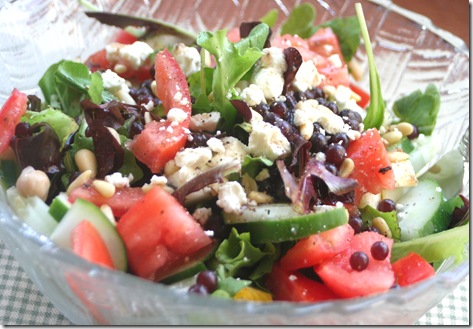 If that doesn't just look like Summer, I don't know what does. In that salad was:
Spring Mix
chickpeas
tomatoes
cucumber
zucchini
carrots
pine nuts
feta cheese
champagne grapes, the star!
Light Balsamic Vinaigrette dressing finished this off perfectly & helped bring together all the amazing flavors.
Reminders
Don't forget to enter my Fiber One 50 Calorie Yogurt giveaway.
Green Dog Wine is running a Turtle Mountain giveaway. Stop by to check it out!!! Turtle Mountain makes a Coconut Milk PB Swirl Ice Cream that I am dying to try!! PICK ME, PICK ME!!!!
Back-to-school post should be up by this weekend. I have been diligently working on this.