If you didn't realize it by now, I am a cereal freak. I love my cereal. I eat it at least once a day and I usually mix more than 1 kind together in a bowl. I then top with Greek yogurt, fruit, nut butter or Vanilla Almond Breeze (unsweetened). I love to mix in different flavors of cereals to maximize flavor and nutrition.
A few weeks back I received 3 boxes of cereal made by Cereal Vit. There were Corn Flakes, Coffee Flakes and Benevit Multi-grain Flakes.
I was especially interested in the Coffee Flakes- Coffee coated corn and flax flake cereal enriched with Omega-3 for heart health. Certified organic and gluten free. I tasted those first. WOW! What a unique flavor! It was odd at first, but then I really grew to like it! I now crave the taste & love adding them to my other cereals or just to my yogurt alone.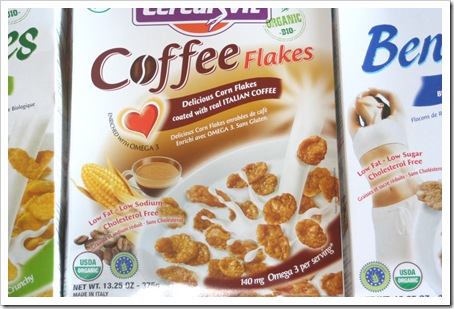 Next up was the Corn Flakes – Extra thick and crispy corn flake with no added sugar. Certified organic and gluten free. These are great corn flakes, but don't be expecting them to be sweet, as they only have 3 ingredients – organic corn, rice malt & salt. They have 1.2 grams/sugar per serving. Great for adding a serving of fresh fruit & yogurt or Almond Breeze to.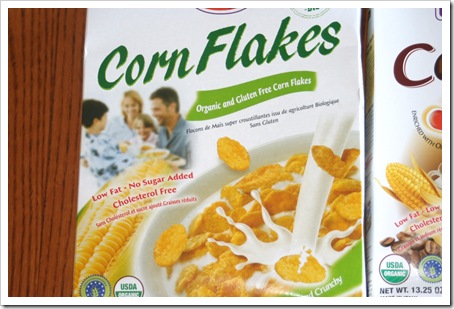 Last, but not least, the Benevit Multi-grain Flakes – Buckwheat and rice flakes with low sugar and fat content. Certified organic and gluten free. These are great!! I love the flavor! Another one that is perfect for mixing or just adding fruit & yogurt to. I love how the flakes stand up to moisture from fruit/yogurt/milk.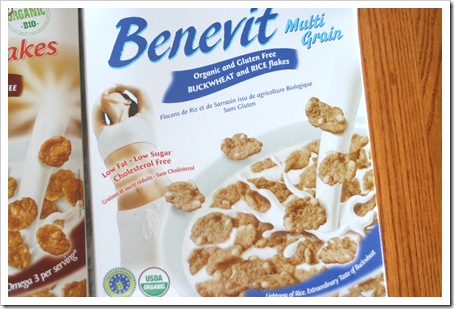 These are a great addition to any gluten-free cereal pantry! For more information, please see Riega Foods.
__________________________________________________________
Check out my latest Examiner article on the 8th Annual "Making Tracks for Celiacs" walk.
__________________________________________________________
A few weeks back I tweeted about not being able to get a response from Emerald Nuts about their Cocoa Roasted Almonds being gluten-free or not. I received a very nice email from the company this week apologizing for their lack of response (they saw the tweet, but not any of my 3 emails). They assured me that the Dark Chocolate Cocoa Roasted Almonds are in fact gluten-free.

__________________________________________________________
I hope you all have a great weekend! Anything special planned? I have a long run planned for tomorrow and then nothing really all weekend after that. I am running later than normal, so I have to play around with my schedule for eating. Normally I don't like to eat before a run period, but I do for my runs over 6 miles. I will eat a banana or Clif Gel. 8+ miles also warrants a Gel of sorts in the middle. Tomorrow I may actually eat a small breakfast first, but I haven't figured things out yet. I think it will depend on when I get up. I will be stuffing my face after my run, that is for sure!