I had the pleasure of meeting Shelley Ritchie, founder of Moondance Heavenly Desserts, the first week of January. Shelley met me at Whole Foods to bring me some samples of her desserts – cheesecakes & brownies. Shelley was diagnosed a few years back with wheat & gluten intolerance. She began to sift through baked goods trying to find something that met her standards. After mounting frustration, Shelley decided to create her own desserts.
From the Moondance website:
Moondance Heavenly Desserts… homemade in small batches… will send you to the moon and back! Are you tired of tasteless gluten free desserts that just leave you wanting more? The wait is over! Our desserts have the home baked taste you've been missing. We understand the culinary challenges involved in baking gluten free desserts, so we have created exquisite desserts available at your fingertips. The finest ingredients and our unique cooking processes give you gourmet creations like none you have ever tasted before. Our delectable desserts are simply heavenly!

All of my finished desserts are tested and certified Gluten Free/Wheat Free by the University of Nebraska's Food Allergy Research & Resource Program, FARRP, or Q Laboratories in Cincinnati, Ohio.
Moondance Desserts can be found in the mid-Atlantic Whole Foods stores (PA, MD, DC, KY, OH). They can also be found at Maggiano's in Cleveland (right up the street from Whole Foods). If you are in the Knoxville area, they will be at the Celiac Vendor's Fair (Saturday, February 27, 2010). You can check here to see other locations that may be close to you.
Shelley was nice enough to bring complimentary samples of 4 different cheesecakes & 2 different brownies. I think I died & went to heaven! Cheesecake was my favorite dessert before going gluten-free.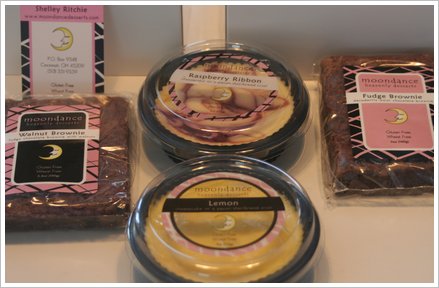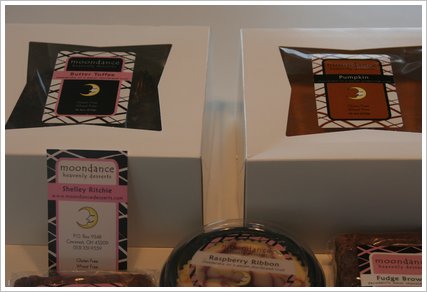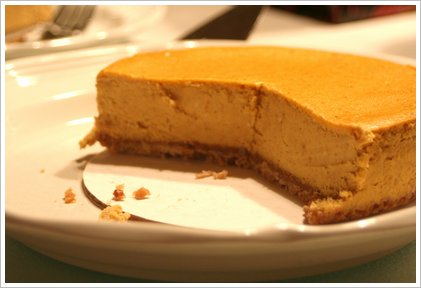 Descriptions from the Moondance website. My comments & thoughts are in italics.
Lemon Cheesecake –Cheesecake topped with a thick layer of refreshing lemon curd on a pecan shortbread crust. The perfect lemon cheesecake. Smooth & creamy.
Raspberry Ribbon Cheesecake – Cheesecake with an all natural swirl of luscious raspberry coulis on a pecan shortbread crust. Traditional cheesecake taste with a bonus. Very rich & satisfying.
Pumpkin Cheesecake -This seasonal favorite sits upon a delicious gingersnap crust. The heavenly aroma of cinnamon and nutmeg gives this cheesecake a delectable flavor. Our favorite. I served this to my Mom & sent some in to Aaron's coworkers. It was raved about. Perfect blend of flavors & amazing texture.
Fudge Brownie – Imagine chocolate… rich chocolate… and even more chocolate, and you have just described our Fudge Brownies. Each bite is filled with the lucious taste of fine chocolate. The brownies linger on your tongue like a decadant chocolate mousse. You won't be able to put these brownies down! Hands down one of the best brownies I have ever had. Thick, fudgey & gooey. YUM!
We have yet to get to the next two, but can't wait! If they are anywhere as good as the first 4 desserts, we are in for a real treat!
Walnut Brownie – The finest quality crunchy walnuts are nestled throughout our decadant Fudge Brownies for a taste experience that will send you to the moon and back! Packed with oversized chunks of walnuts, each bite of our Walnut Brownie is sinfully rich and will surely satisfy the inner chocoholic in you!
Butter Toffee Cheesecake – Our classic cheesecake topped with handmade butter toffee and drizzles of decadent chocolate on a pecan shortbread crust.
Do you want to try Moondance Desserts Brownies for yourself? Shelley is offering to give one lucky reader a sampling of her brownies. The winner will get 6 brownies – 3 fudge & 3 walnut.  All you have to do is:
1. Leave a comment here telling me what your favorite cheesecake flavor is.
2. Tweet (@kbouldin) or blog about this contest & post a comment with the link or letting me know you tweeted.
3. Contest will end Friday, January 29, 2010 at midnight.
Shelley, it was great to meet you. Thank you again for the wonderful samples – we are truly enjoying them.