Dee (also known as Gluten-free Dee) was nice enough to send me some complimentary samples of Gluten-free Sandwich Petals. I was so excited! I have been hearing about these all over the blog world & Twitter. Heidi (Adventures of a Gluten-free Mom) did a review on them not too long ago.
I was so excited when I saw who the pacakge was from. I opened them up & could immediately smell the wonderful aroma wafting up from the box. I then saw what deflated my excitement – sesame seeds. 🙁 I can't eat sesame seeds without getting very sick – almost as bad as getting glutened. Jon, however, has no issues with them & was more than happy to be the sole tester of the Sandwich Petals.
I made these wraps into all kinds of different meals & snacks for Jon. He had them as wraps with deli meat, lettuce cheese & dressing. He ate them for snack, warmed with cream cheese inside. He used them as a taco shell. He had them as a queasdilla with cheese & pepperoni inside. Jon couldn't stop raving about these wraps. I would make him 2 wraps for a meal & he would be for a 3rd. I was a little concerned that he would balk at the Spinach & Garlic or the Chimayo Red Chile, but he didn't. He loved the flavors. We are now down to 2 wraps left. He asked me when I was buying more! LOL! I guess that means I better get on it!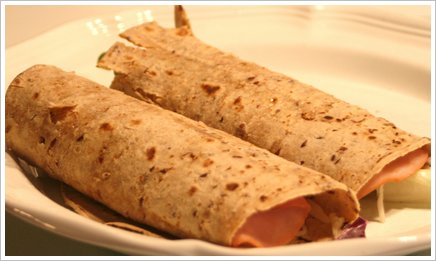 (Note, the wraps are cracked in the picture due to Jon messing with it, they don't crack like other GF wraps)
Some information on Sandwich Petals:
10 Gluten-free Ancient Grains
Prebiotics
Heart Healthy Omega 3's
Require no freezing
Shelf stable on counter for 30 days
Versatile
90 calories per wrap
Gluten, Dairy, Soy & Nut-free
Continuously lab tested by American Institute of Baking to be glutenfree (less than 20 ppm)
You can buy Sandwich Petals right from their website. They are $25 for a box of 36, 12 of each flavor (Agave Grain, Spinach & Garlic & Chimayo Red Chile). Shipping is free. Monday is BOGO – Buy One Get One Free Day!!! Don't wait any longer – these are the wraps you have been waiting for!