Okay, so this isn't a gluten-free food review, but I had to give this product a shout out because it might just be the best $40 I have ever spent. I had read on many running blogs about the compression sleeves, but hadn't taken the leap yet. My concern and reason for considering them was my calves being very tight leading up to and after my half marathon in October. This post is what sealed the deal for me & convinced me to give them a try.
I happened to take Hannah to a birthday party right next to Road Runner Sports a couple weeks back, so I ran in to see if they had the Zensah sleeves. They did. Not only did they have them, but they had them in 3 colors – black, purple & pink. I had a rough time deciding between the pink & purple, but I went with the pink. I put them on when I got home, figuring since I ran 10 miles that morning that it couldn't hurt to wear them. I was pleasantly surprised when I got out of bed the next morning & there was virtually no tightness in my calves at all.
The compression sleeves increase blood flow to the area & help speedy recovery. You can read more information on recovery & compression sleeves here and here.
I have been just thrilled with my sleeves. I have used them for all runs since I bought them and after my runs longer than 8 miles. My calves/shins have never felt better (well, okay, maybe when I wasn't running at all). They are easy to take care of – just toss in the washing machine & hang to dry. They also match a lot of my running gear. 😉 I hope that these help carry me through my upcoming half & full marathons.
Here is a picture: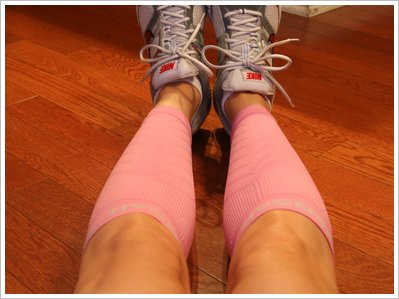 I was not paid or compensated in any way to write this review. I bought the sleeves myself, though I would be happy to review any other products that Zensah would like to send my way, such as the cute running skirt. 😉