What is Fat Tuesday? Here is a little background for you from Wikipedia –
The terms "Mardi Gras", "Mardi Gras season", and "Carnival season", in English, refer to events of the Carnival celebrations, beginning on or after the Epiphany and ending on the day before Ash Wednesday. Mardi Gras is French for "Fat Tuesday" (in ethnic English tradition, Shrove Tuesday), referring to the practice of the last night of eating richer, fatty foods before the ritual fasting of the Lenten season, which started on Ash Wednesday. Related popular practices were associated with celebrations before the fasting and religious obligations associated with the penitential season of Lent. Popular practices included wearing masks and costumes, overturning social conventions, dancing, sports competitions, parades, etc. Similar expressions to Mardi Gras appear in other European languages sharing the Christian tradition. In English, the day is called Shrove Tuesday, associated with the religious requirement for confession before Lent begins.

In many areas, the term "Mardi Gras" has come to mean the whole period of activity related to the celebratory events, beyond just the single day. In some US cities, it is now called "Mardi Gras Day" or "Fat Tuesday. The festival season varies from city to city, as some traditions consider Mardi Gras the entire period between Epiphany or Twelfth Night and Ash Wednesday. Others treat the final three-day period before Ash Wednesday as the Mardi Gras. In Mobile, Alabama, Mardi Gras-associated social events begin in November, followed by mystic society balls on Thanksgiving, then New Year's Eve, followed by parades and balls in January and February, celebrating up to midnight before Ash Wednesday. In earlier times parades were held on New Year's Day. Other cities famous for Mardi Gras celebrations include Rio de Janeiro in Brazil, Quebec City, Quebec in Canada; Mazatlan in Mexico; and New Orleans, Louisiana in the United States. Many other places have important Mardi Gras celebrations as well.

Carnival is an important celebration in Catholic European nations. In the United Kingdom and Ireland, the week before Ash Wednesday is called "shrovetide", ending on Shrove Tuesday. It has its popular celebratory aspects as well. Pancakes are a traditional food. Pancakes and related fried breads or pastries made with sugar, fat and eggs are also traditionally consumed at this time in many parts of Latin America and the Caribbean.
When I was growing up, we always called it "Shrove Tuesday", as I was raised Episcopalian. I remember going to church on Shrove Tuesday for a pancake dinner. Mmmm!! We often spoke of what we would be giving up for Lent at dinner that night.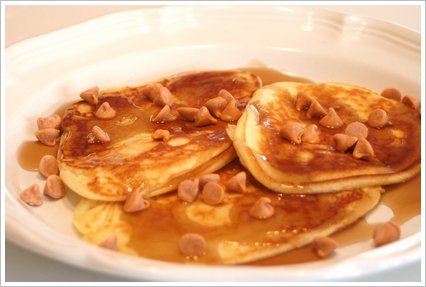 Now that we are gluten-free, I make our pancakes at home. I usually use Pamela's Pancake & Baking Mix for our pancakes, but today I decided to use my complimentary sample of Jules Gluten-Free Flour. I quickly found an easy recipe for "Flapjacks" on Jules website. This recipe made 9 pancakes for us. I topped them with butterscotch chips & syrup & Jon had a wonderful, snow day breakfast.
I made a couple changes to the recipe:
I used Instant Non-fat Dry Milk (it was all I had) in place of the Dari-Free™ Non-Dairy Milk
Powder (or dry dairy or soy milk powder)
I used skim milk for the milk
While I am a huge fan of Pamela's Products, I think that these pancakes have got the Pamela's Pancake Mix beat. They are probably the closest thing I have tried compared to gluten-filled pancakes. I asked Jon which he preferred & he said these, hands down. The texture is key and it is just perfect!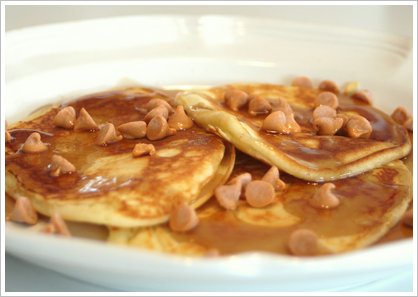 You can purchase Jules Gluten-Free Flour here.  There is also a coupon I posted about yesterday for a free e-Cookbook with 13 of the most requested recipes included!
Will you have pancakes today? How do you celebrate Fat Tuesday/Shrove Tuesday/Mardi Gras?