Have you guys checked out the new site by General Mills, Live Gluten Freely? General Mills is one of the most gluten-free-friendly companies out there. They now have over 250 gluten-free products!! You can view the list of the products here. I noticed that they have added some products to the list, such as frostings, Green Giant Steamers, a few more soups and yogurt. The site has so much useful information.
I am thrilled to share with you all that I will be contributing blog entries to Live Gluten Freely beginning with the site's re-launch in March!  I am so excited about this opportunity!  I love what General Mills has done for the gluten-free/Celiac community.
Live Gluten Freely also has a recipe page that they hope to grow to over 100 recipes. There are some great ideas there. I particularly like the Peanut Butter Chocolate Chip Bars with Chocolate Frosting and the Brownie Ganache Torte with Raspberries.
You can also follow Live Gluten Free on Facebook. This is a great place to interact with others who are also gluten-free.
********************************************************************************************************
As part of the Foodbuzz Tastemaker program, I received a coupon for some Eggland's Best Eggs. I eat eggs daily for breakfast, so I was excited to give the Eggland's Best a try.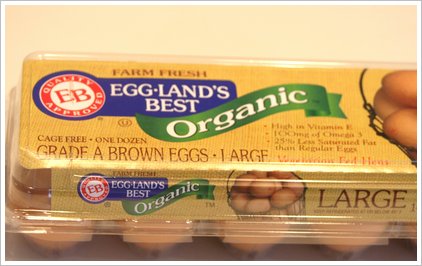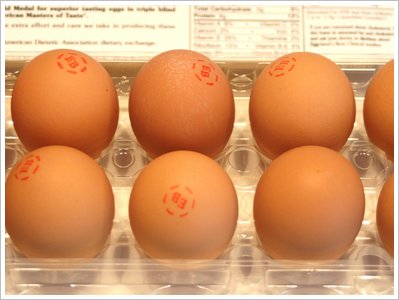 I usually make a spinach, tomato & egg white frittata for breakfast, so these came in very handy. I did notice a difference in taste from the traditional, white grocery store eggs – in a good way. I have also been enjoying them in the form of fried egg sandwiches on gluten-free bread spread with a little hummus. Perfect lunch!
Here is some more info from Eggland's Best:
Eggland's Best Eggs Are Now Even More Nutritious

Eggland's Best now provides even better nutrition for your family. Compared to ordinary eggs, EBs deliver even higher levels of important nutrients like vitamin A, D, E, B2 and B12, along with lower levels of saturated fat and cholesterol. All this combined with their delicious, farm-fresh taste, is why EB continues to stand for the very best in quality and value for your family.
If you are like me, you are curious as to how the Eggland's Best egg is more nutritious than other eggs. Here is what Eggland's Best has to say about that topic:
Special, Unique Hen Feed

It all starts with the special Eggland's Best hen feed. Eggland's Best hen feed is a patented all-natural, all-vegetarian feed that contains healthy grains, canola oil, and an all-natural supplement of rice bran, alfalfa, sea kelp and Vitamin E. The Eggland's Best hen feed contains no animal fat, no animal by-products, and no recycled or processed food. Eggland's Best never uses hormones, steroids, or antibiotics of any kind. Simply put, because the Eggland's Best hen diet is superior, Eggland's Best hens lay nutritionally superior eggs.

Nutritional Benefits

Eggland's Best eggs contain ten times more Vitamin E than ordinary eggs, 100 mg of Omega 3, shown to be beneficial to cardiac health, 25% less Saturated Fat, and 200 mcg of Lutein, shown to contribute to eye health. In addition, one Eggland's Best large white egg contains just 175 mg of Cholesterol compared to 215 mg in an ordinary egg. Proven by clinical studies performed at the Medical College of Pennsylvania, and published in the Journal of Nutrition, and the Journal of Applied Nutrition, Eggland's Best eggs can be part of a cholesterol-reducing diet when eaten in place of more fatty foods.
Very interesting. I had no idea. Do you eat eggs? Do you buy Eggland's Best?