These cookies are inspired by a recipe that I found in the March 2010 issue of Vegetarian Times. I love pecans in my cookies & just happened to have an open bag that needed a use. The way the recipe is written, it is vegan in addition to gluten-free. I changed it slightly. My version is not vegan. I didn't have any vegan margarine in the house, as we use real butter.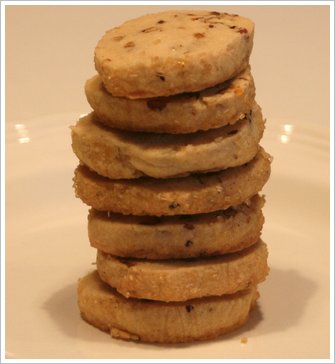 Makes 36 – 44 cookies
3/4 cup chopped pecans
1/2 cup butter, softened
1/4 cup firmly packed light brown sugar
3 TBSP maple syrup
1/2 tsp. vanilla extract
1/2 tsp salt
1 1/3 cups Better Batter Flour (you can sub another GF flour mix, just make sure it is not one that contains any baking soda or baking powder)
1/4 cup Sugar in the Raw
1. Preheat oven to 350. Toast chopped pecans for 10 minutes.
2. Beat butter, brown sugar, maple syrup, vanilla and salt with mixer until smooth. Stir in flour with spatula until just mixed. Fold in pecans.
3. Shape dough into two 10-inch logs. Wrap in plastic wrap & chill for at least 2 hours.
4. Unwrap dough logs & preheat your oven to 350. Let dough stand for 20 minutes at room temperature. Roll logs in Sugar in the Raw, then slice into 1/4 inch disks. Transfer to parchment paper lined baking sheet. Bake 12-14 minutes or until golden.
Nutritional Stats per cookie (based on 44 cookies): <1g protein, 4g fat, 55 calories, 6g carb, 3g sugar.
These cookies turned out so good! They remind me of Pecan Sandies!