A few weeks back I received some complimentary samples of Biscottea Shortbread Cookies. Here is some information about Biscottea:
BISCOTTEA® is baked with organic and all-natural ingredients and combines the richness of a traditional Scottish shortbread recipe with the health attributes of the teas which are baked into each BISCOTTEA® square.
I was sent samples of the following Biscottea shortbread cookies:
Blueberry Tea Shortbread-White Tea from China's Fujian province has long been celebrated for it's cooling properties. High in antioxidants, this tea is mellow, slightly woodsy in character. We combine this Organic White Tea with Organic all-natural blueberry flavor into this gluten free version of our traditional BISCOTTEA® Blueberry Tea Shortbread. These were our favorite cookie of the 3. I loved the subtle blueberry flavor & the texture of the cookie. Just like a traditional shortbread cookie.
Chai Tea Shortbread -Savor the delicate balance of fragrant Chai Spices — cinnamon, cloves, cardamom, ginger and pepper — we combine these all natural spices into this gluten free version of our traditional BISCOTTEA® Chai Tea Shortbread. These cookies tasted a lot like a chai latte. The texture was awesome. Great cookie!
Earl Grey Tea Shortbread- From the Makaibari Estate, known for its outstanding organic teas, this Darjeeling Tea has spicy, floral notes — ideal for this Earl Grey recipe. We combine this "Champagne of Teas", with the citrus bouquet from the Bergamot fruit into this gluten free version of our traditional BISCOTTEA® Shortbread. This cookie earned a very close 2nd place to the Blueberry Tea Shortbread. Excellent flavor & texture.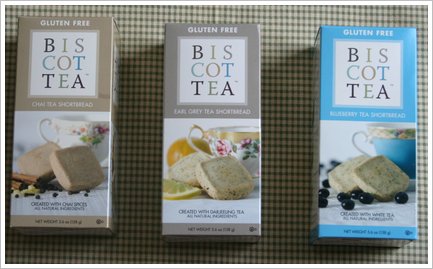 Biscottea Shortbread cookies can be purchased at Gluten-Free Mall for $5.45/box of 8 cookies.
Have you tried these cookies? What did you think? Of all the cookies that I miss from my gluten-filled days, I think the shortbread cookie is the one that I miss the most because I have found that it has been the hardest to replicate. These cookies made by Biscottea fill that void.