I received some complimentary coupons from Snikiddy to go and get a couple bags of their snacks to sample. I was very excited as everything I saw on their website looked like so much fun! Sometimes even us adults need fun snacks. 😉 I was hoping to find the Baked Fries, but none of the stores in my area seem to carry these. I ended up with the Grilled Cheese Puffs & Nacho Cheese Puffs. No complaints here – I love cheese.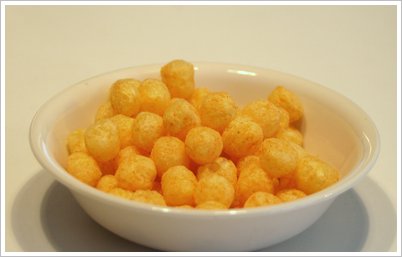 Some information on Snikiddy:
Snikiddy® is a brand of great tasting, family-friendly snack foods made from simple, wholesome, and real ingredients.

How Snikiddy Got it's Name:

Snikiddy® is a shortened (and let's face it, easier to say) form of the word persnickety, which means choosy or picky. Growing up, Janet (Mary's mom) and her siblings were known around school as the Snikiddy kids (a badge they wore proudly) because they always ate healthy lunches. Their mom (Grandma), ahead of her time with her passion for good health, would pack their lunch boxes full of locally grown organic produce and very simple foods. A teacher once referred to them as being persnickety and the kids' version of the word (snikiddy) stuck.

Grandma's passion for healthy eating was obviously contagious. It was passed from generation to generation and in 2006 Janet and Mary founded Snikiddy®. At Snikiddy®, we are persnickety about our products – whether we're insisting on top-quality ingredients or simple ingredients such as real cheese, potatoes and corn, we take pride in every product we make and are confident that these snacks would pass the true test…your family's! We thank you for being Snikiddy® about your snacks too!
We all loved these cheese puffs! They had a great cheese flavor & crunch. Now I can't wait to get my hands on those baked fries!!! Come to momma!
Find out where you can purchase Snikiddy products in your area. Columbus people – I found the cheese puffs at Meijer in Westerville.