Happy March to you guys!!! I am just happy February was over. Here in Columbus, Ohio, we had the snowiest February on record at over 30 inches!!! I am happy to be past that. Now, I know all too well that we can get snow into March, and even April, here in Ohio, but I feel like there is light at the end of the tunnel. Plus, a spring break trip to Atlanta will do wonders for my need for warmth. 😉
Twitter is such a wonderful place. It is literally a wealth of information. I got a great idea for breakfast this morning from Erin at Gluten-free Fitness on Twitter last Friday. She was talking about pancakes & suggested mixing oatmeal & egg whites for a healthy, protein filled breakfast. This morning my breakfast was inspired by that tweet.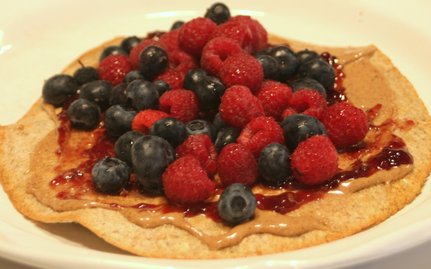 Here is what I did:
Ingredients
Pancake
1/2 cup dry gluten-free oats (I used Lara's by Cream Hill Estates)
1/2 cup of egg whites (3-4 if you are using whole eggs, depending on the size)
cinnamon
vanilla
Toppings
Blueberries
Raspberries
Almond Butter (1 TBSP)
Fruit Spread (Black Cherry – no sugar or sweetener added)
1. Blend all pancake ingredients with an immersion blender until well mixed & fluffy. Heat a pan sprayed with Pam on your stove.
2. Pour mixture into pan & cook until set on the 1st side and then flip. Cook until set on the other side.
3. Top with almond butter, fruit spread and fresh berries.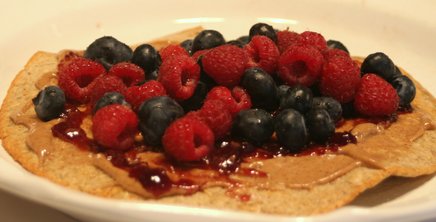 This breakfast packs in the protein! Just what I need after a workout. There are over 25 grams of protein and between 450 – 500 calories in this breakfast. If you are looking for lower calorie, omit the almond butter and cut almost 100 calories and only 4 grams of protein out.
Thank you Erin for the inspiration to make this awesome breakfast! It was super filling & kept me feeling fueled & full all morning. Make sure to check out Erin's blog. She is one smart cookie!