I know what you are all thinking – how can healthy & brownie even be in the same title together? Well, guess what? They can!! I stumbled upon this recipe on Twitter a week or so ago & knew that I had to give it a try. I used Lara's Rolled Oats in place of the instant oats. I tossed them in the food processor first, as suggested & then removed them to blend up the other ingredients. I have to admit that I was a little concerned at first – bananas and black beans in a brownie? I had heard about black beans. I have used bananas for "soft serve ice cream" and I do like them. I also used Hershey's Special Dark Cocoa for my choice of cocoa.
Look how fudgey they look!?!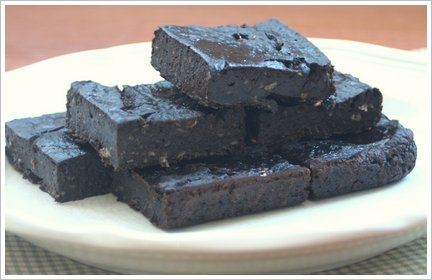 A tip – don't eat the brownies warm. While they weren't bad warm, they were much better when cool. I also had maybe the most wonderful brainstorm while starting to eat my brownie – Artisana Coconut Butter as frosting! I quickly got out my coconut butter, warmed it up & spread a little on top. Pure heaven. I can't wait to dig into another here shortly. The best thing about these healthy brownies, well, besides the taste, the nutritional stats. Check these out: 85 calories, 1g fat, 16g carbs, 4g protein = per square when cut into 9 squares (coconut butter frosting not included). I may just use one of these for my pre-run fuel for my long run tomorrow!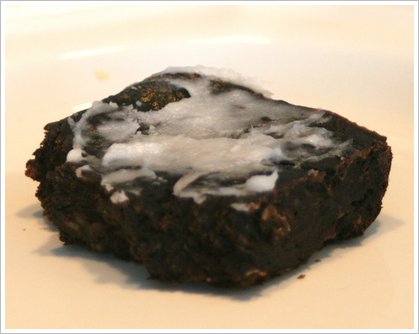 I have to say it again – H.E.A.V.E.N.