I was the lucky recipient of a package of complimentary baked goods from Mariposa. In the package was:
Foccacia Bread

Sour Cream Coffee Cake

Almond Biscotti

Crostini

Triple Fudge Truffle Brownie

Coconut Lemon Squares
The package smelled amazing upon opening it. It had mild sents of garlic that wafted up from the delicate foccacia bread that was packaged in the box. I couldn't wait to dig into these products! From Mariposa:
Our mission is simple — create gluten-free baked goods that are indiscernible from the finest, high-caliber gluten-based products available.
We knew that to achieve our mission we would have to use the finest ingredients. We know that we have made quality choices when we look around us as we bake and see glistening bottles of fine, fragrant orange oil; giant blocks of rich, elegant chocolate; sweet, locally grown walnuts and fine Italian roasted espresso. We use organic where we can: sparkling crystals of organic unrefined cane sugar and tender organic brown rice flour that blend beautifully with our fresh, hand-cracked eggs and grade AA creamery butter.

We produce in small batches — it's our way of preserving the craft of artisan baking.

Mariposa Baking began creating artisan-crafted gluten-free biscotti and brownies, arising from founder Patti Furey Crane's gluten allergy.
Patti discovered her gluten allergy shortly after being diagnosed with multiple sclerosis. Eager to take a proactive role in managing her illness, she began exploring a nutritional approach to living with MS. As a first step, Patti wanted to eliminate allergens from her diet. Of particular concern were foods containing tomato. For a number of years she had suffered from what she believed to be a tomato allergy, since she always became ill after eating foods containing tomatoes, such as pizza, pasta dishes and salads. However, following long overdue tests, Patti discovered that tomatoes were not to blame after all. Rather, the crust on the pizza, the pasta beneath the marinara and the croutons in the salad – all containing wheat gluten – were the real culprits.

Once her gluten allergy was identified, Patti banished gluten from her diet. One of the difficult aspects of doing so, however, was giving up desserts. The gluten-free baked items that she purchased were grainy and lacked the texture and flavor of their wheat-based equivalents.

Rather than accepting "less than the real thing," Patti took to baking her own gluten-free creations, using only the highest quality ingredients. After input from local pastry chef Kyoko Hiramatsu and extensive experimentation Patti developed several flavors of biscotti and brownies that mirrored the flavor and texture of "The Real McCoy." In fact they were so delicious that her husband, Jason, encouraged her to take her creations to market to be enjoyed by others who are gluten intolerant and those who simply enjoy indulging in delectable baked creations.

Patti Furey Crane launched Mariposa Baking in the Fall of 2004 with a small team of artisan bakers. Her products have been met with great fanfare by all who have sampled them.

Mariposa Baking is committed to being a good citizen of this earth. A percentage of our annual profits are donated to charitable organizations that benefit our community and world.
Now, what you have all been waiting for – how do the products taste? We were very impressed with the products from Mariposa.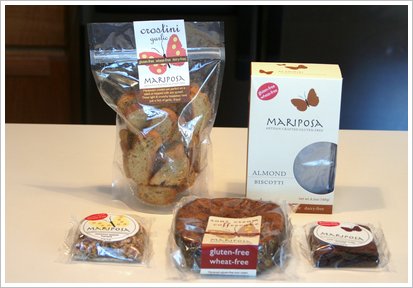 The coffee cake was claimed by Jon as soon as he saw it. He ate it for breakfast the past 2 days & declared it to be the best – EVER! He is so funny! He also enjoyed the truffle brownie – I was able to grab a bite of that & was in chocolate heaven. The crostini works well as croutons & has a nice garlic flavor that is not overpowering. The almond biscotti goes perfect with a cup of hot tea. The foccacia bread was very good with our lasagna dinner last night. We toasted it in the toaster oven to crisp up the outside a little bit. I have yet to try that coconut lemon square, but that will be mine, all mine. Jon is not a fan of coconut, so too bad for him! 😉
You can see the foccacia below with the lasagna: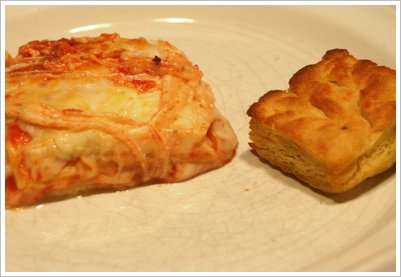 Thank you, Mariposa, for sending us these samples to review. They were great!
Mariposa has a couple of locations in California. Click here to find out more. Here are some other places you can find Mariposa's products, including ordering online. I am thinking of ordering some of the bagels & pizza crust next. They look so good!