Today I am running the ING Georgia Half Marathon! I am running in support of the March of Dimes with 11 other friends & family of Kelly (my sister & her husband, Greg). My sister & her husband had twin boys prematurely on August 26, 2009; they were not due until early December. Wyatt & Jack both passed away in October – Wyatt on the 9th and Jack on the 31st. I scheduled this post to go up while I was running so you all had something to read & think about. If Wyatt & Jack's premature birth could have been prevented or even delayed a few weeks, the outcome may have been different.
I thought that reviewing the complimentary samples of Jay Robb protein powder was appropriate today because it is what I use within 45 minutes of my long runs. I will be having one once I finish running today. Protein is important to help repair muscles after running – I found this explanation on About.com – Sports Medicine
Protein Needs After Exercise
Consuming protein has other important uses after exercise. Protein provides the amino acids necessary to rebuild muscle tissue that is damaged during intense, prolonged exercise. It can also increase the absorption of water from the intestines and improve muscle hydration. The amino acids in protein can also stimulate the immune system, making you more resistant to colds and other infections.
Jay Robb sent me three different types of protein powder – whey, brown rice & egg white proteins – in vanilla. I blended each of them up with Unsweetened Almond Breeze (chocolate the first time, then vanilla the other times). I really enjoyed the flavor of the protein drink! There was no chalky texture.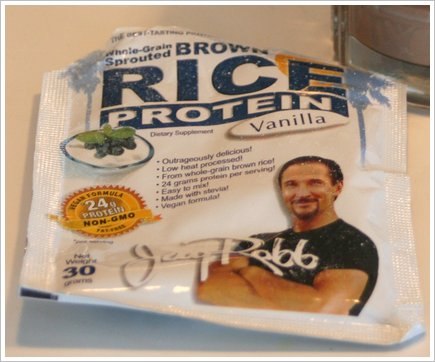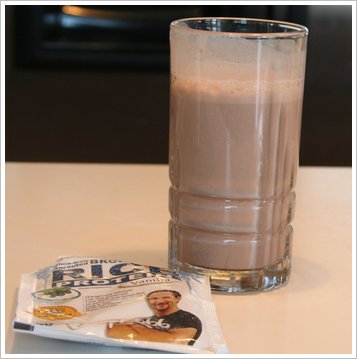 As you can see, this is the one I mixed with the chocolate almond milk. Here are the nutritional stats for this product:
Jay Robb Rice Protein formula contains NONE of the following ingredients:

NO MSG
NO Acesulfame-K
NO Artificial Flavors
NO Artificial Sweeteners
NO Gluten
NO Artificial Colors
NO Aspartame
NO Sucralose
NO Lecithin
NO Sugar

Ingredients: Whole-grain sprouted brown rice protein concentrate, natural flavor, stevia.

ALLERGEN INFORMATION: This product is manufactured in a facility that processes other products which may contain soy, dairy, wheat, tree nuts, shellfish, fish, peanuts, and eggs, and may contain traces of all of the above.

SUGGESTED USE: Take one or more scoops daily to supplement your diet with additional protein. Mixes easily with water or your favorite beverage.

Serving Size: 1 scoop (30g)

Servings Per Container
12 oz Size: 11
24 oz Size: 23

Calories: 110
Calories from fat: 5
Total Fat: 0.5g
Saturated Fat: 0g
Trans Fat: 0g
Cholesterol: 0mg
Sodium: 15mg
Total Carbohydrates: 4g
Dietary Fiber: 2g
Sugars: 0g
Protein: 24g

Vitamin C: 2% DV*
Calcium: 10% DV*
Iron: 30% DV*

Not a significant source of Vitamin A

*Percent daily values are based on a 2,000-calorie diet. Your daily values may be higher or lower depending on your calorie needs.

Amino Acid Profile Per Serving
Isoleucine (BCAA) 1010mg
Leucine (BCAA) 1908mg
Valine (BCAA) 1378mg
Alanine 1247mg
Arginine 2101mg
Aspartic Acid 1977mg
Cysteine 560mg
Glutamine 3951mg
Glycine 976mg
Histidine 487mg
Lysine 781mg
Methionine 1251mg
Phenylalanine 1251mg
Proline 1143mg
Serine 1102mg
Threonine 1339mg
Tryptophan 845mg
Tyrosine 1239mg
Provides all the essential and branched-chain amino acids, plus all other naturally occurring amino acids.

These statements have not been evaluated by the Food and Drug Administration. This product is not intended to diagnose, treat, cure or prevent any disease.
Pretty impressive! Aside from the loving the flavor, I love knowing that I am getting the protein my body needs to stay in tip-top shape for marathon training.
You can find Jay Robb Protein Powder on their website, Amazon or in Kroger. Jay Robb's site offers free shipping on all orders over $25 in the US.