We received these complimentary samples of Jungle Grub Snack Bars just in time for a road trip! Gotta love that! I love portable, pre-wrapped snacks for traveling.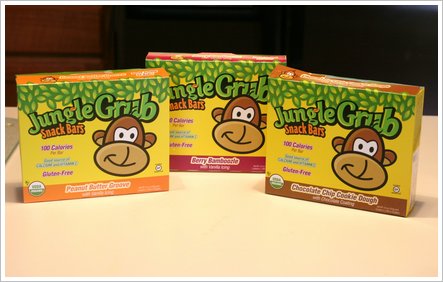 Here is some information about Jungle Grub Snack Bars:
Organic Nutrition, Inc. is dedicated to developing nutritious, organic, gluten-free snack foods for kids. Our first year was spent in product development going through countless focus groups and product tasting events to develop Jungle Grub™ Snack Bars.

Jungle Grub® snack bars launched with two flavors, Berry Bamboozle and Peanut Butter Groove in March 2007 at the Natural Products Expo West. In addition to the original two flavors Organic Nutrition is very excited about the addition of a New Chocolate Chip Cookie Dough flavor launching November of 2008. Organic Nutrition continues to work on new flavors for Jungle Grub® as well as developing additional gluten-free snack food products.

"Developing Organic Nutrition, Inc. has been far more rewarding than I ever envisioned. There is a strong feeling of awareness among consumers that we need to develop snacks that are nutritious for kids. We plan to be part of the solution, putting quality and fun first. Its an incredible feeling to watch children's faces light up when they like something they are eating and you know its good for them.

"Kids should eat well and like what they eat!…Toss 'em a Jungle Grub!"

Steven R. Brandt, President and CEO
Organic Nutrition, Inc.
The bars have pretty decent nutritional stats:
Only 100 calories
4 grams protein
Only 8 grams of sugar
1 gram of fiber
20% RDA of Vitamin C & 15% RDA of Calcium per bar
Certified gluten-free & Organic
Only 2 WW points
Upon opening the bars I was a little shocked at the size; they are pretty small. There are 5 bars per box. However, these bars are not intended to be meal replacement bars, they are snack bars. Snacks for kids & adults should be between 100 – 200 calories, so these fit right in there. You can read more about kids nutrition here. Now, how do they taste? The bars are good. They aren't the best I have ever tasted, but they aren't bad. Jon like them, but commented on how small they were. Keep in mind he is 13 and growing before my eyes. My favorite flavor was the Peanut Butter Groove and Jon's was the Chocolate Chip Cookie Dough.
Want to try Jungle Grub Snack Bars for yourself or kids? You can find them here. You can keep up with Jungle Grub Bars on Facebook, too!