Thursday I had the pleasure of finally meeting an online acquaintance in Atlanta for lunch. Julie and I met online via my sister. Julie goes to church with my sister, Kelly, and also happens to have Celiac Disease. Kelly passed along my email to Julie and the rest is history. Julie & I became fast friends through email & Facebook. When I scheduled my trip to Atlanta this spring, I made sure to schedule some time with Julie as well.
Julie & I met at P.F. Chang's for lunch. They just debuted their updated gluten-free menu on March 8, 2010. I have eaten there once since the debut, but didn't really order a "new" dish – I seem to be stuck on the Singapore Street Noodles. At lunch, I was determined to try a "new" dish. Our server was extremely knowledgeable about Celiac and the gluten-free diet. As a matter of fact, he is a trainer for P. F. Chang's. He told us that 1 out of 5 of his tables orders off of the gluten-free menu! This is big, people! The manager came over & spoke with us about the new menu & mentioned that her mother has Celiac! She also informed us that all of the marinades for the proteins in the restaurant are now gluten-free, so they can potentially modify any dish on the entire menu to be gluten-free. You just have to ask. If you choose to go this route, please make sure to speak with the manager to ensure all the proper precautions are taken.
Julie & I ordered the Chicken Lettuce Wraps to start. I am never disappointed with these and am pretty sure that one day my meal at P.F. Chang's is going to include lettuce wraps & the chocolate dome. For our entrees, we ordered the Shrimp Fried Rice, Hong Kong Beef with Snow Peas and Chang's Spicy Chicken. This was my first time trying the fried rice and the Hong Kong Beef. Julie & I were in gluten-free heaven!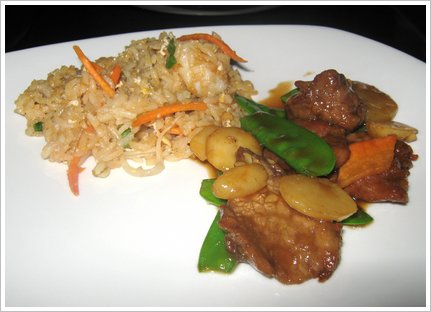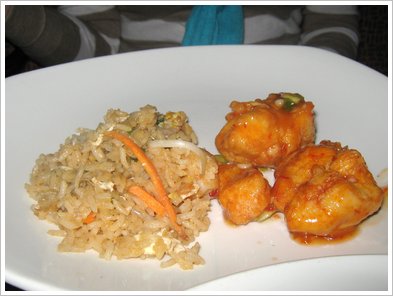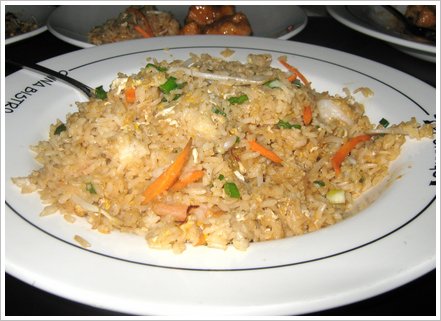 I have no words to describe the food. It was that good. Everything was so flavorful and cooked to perfection. Do you see the "P.F. Chang's China Bistro" printed on the plates? This "tags" the dish as being gluten-free so that the staff is all aware. Julie & I ate until we were stuffed! There was no room left for dessert, though I did get some to-go, along with some Philip's Better Lemon Chicken, for Jon. I am giving this visit to P. F. Chang's 5 stars. I couldn't have been more pleased. Julie and I have already set a tentative date for my visit to Atlanta next year.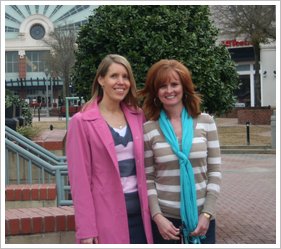 Julie, I can't tell you how great it was to finally "meet" you! You are just as sweet as I imagined you would be. I really enjoyed our lunch together.
Anyone else have any experiences with the new menu at P.F. Chang's that they would like to share?