I had the pleasure of receiving a package of complimentary samples from Canyon Bakehouse the day after I got home from Atlanta. I always welcome samples with open arms, but this time I was even more excited because I had been gone for 8 days and low on food! Canyon Bakehouse sent me the following:
San Juan 7-Grain Gluten Free Bread
Cinnamon Raisin Gluten Free Bread
Mountain White Gluten Free Bread
Rosemary & Thyme Gluten Free Focaccia
Cranberry Crunch Gluten Free Muffin
Canyon Bakehouse is a dedicated, gluten-free bakery located in Loveland, Colarado. Canyon Bakehouse is owned by Josh & Christi Skow and Ed Miknevicius. Master Baker Ed & Josh have over 35 years of combined bakery formulation & operation experience, which shows through in their product. Christi, Josh's wife, was diagnosed with Celiac over 3 years ago through a routine physical.
I was intrigued the minute I opened the package. I could immediately smell rosemary, one of my favorite herbs. Fortunately it was close to dinner time, so I broke the focaccia out. I couldn't wait to take a bite, so I did! I couldn't believe the moist, tender taste – filled with rosemary, right out of the bag! I was fully expecting to have to toast or heat the focaccia in the oven. Nope. Not needed.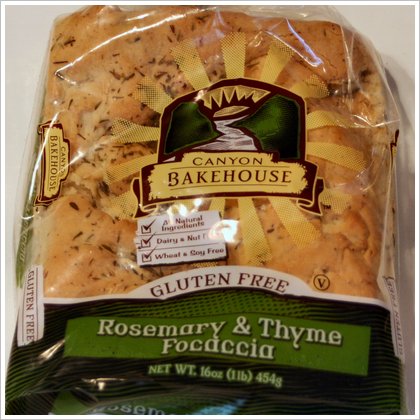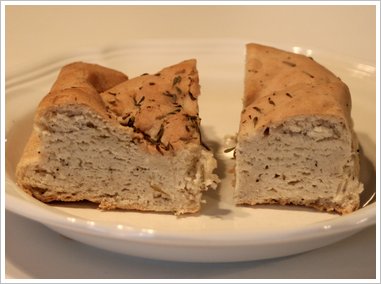 The next day for lunch, I made my sandwich on the Mountain White Gluten Free Bread. The bread does not need to be toasted first, just like Udi's.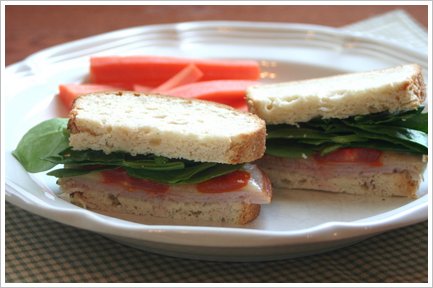 This bread ranks right up there with Udi's! Soft & the texture is close to, if not better than, what I remember gluten-filled bread being like. The flavor is fantastic. Each piece of bread only has 90 calories, 1 gram of fat and has 2 grams of fiber & 2 grams of protein! Good stats for gluten-free bread.
The San Juan 7-Grain Gluten Free Bread is just as good as the white bread. This bread has more of a whole grain flavor, most likely due to the addition of teff and millet. Same nutritional stats as the white bread. Another hit from Canyon Bakehouse!
Sadly I couldn't sample the Cranberry Crunch Muffins or the Cinnamon Raisin Bread due to the sesame & poppy seeds in them. I did send these into Lindsey, my tasting buddy, and she loved both the muffins & the raisin bread. Jon also sampled a muffin and loved the flavor, but he is not a fan of crunchy things in his food (that is a 14 year old boy for you).
Interested in trying Canyon Bakehouse? You can order their products here. Also, don't forget to become a fan of Canyon Bakehouse on Facebook & follow them on Twitter!
Thank you for sending us the wonderful samples to review! 🙂