It is another gorgeous day here in central Ohio. I hope that the weather is nice where you live. Yesterday morning I ran my longest run ever. I ran 18 miles. Phew! That took a long time. Just think, only 8.2 more miles to the marathon distance! I feel pretty good today with the exception of my calves being a little tight.
Another busy week on tap here. My baby boy, Jon, is turning 14 on Saturday! I can't believe that he will be in high school in the fall. Where did the time go? We will be having a family get together this coming weekend and Jon will be having several friends spend the night on Friday. I fully expect to get no sleep on Friday night with a house full of teenage boys.
Sunday – Grilled chicken breast (on the grill!), quinoa pasta, alfredo sauce, spinach & salad
Monday – Take out or something fast – busy during dinner hour
Tuesday- Fish Tacos/Tacos, refried beans, corn & salad
Wednesday-Spaghetti with marinutta sauce, zucchini & salad
Thursday-Salmon, brown rice, broccoli & salad
Friday-Pizza for the boys
Saturday-Grilled burgers, chicken, corn on the cob, salad & fruit
Baked Goods
Cake or dessert for Jon's party
Scones
**********************************************************************
Have you ever tried Van's Gluten-Free Waffles? I have been eating these on & off since I first went gluten-free 4 years ago. Van's contacted me to see if I wanted to help get the word out about their new packaging. I love the new packaging!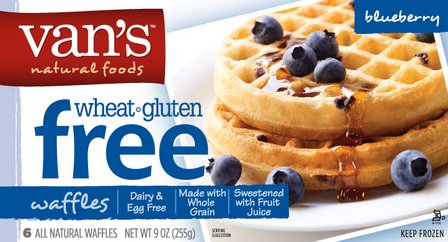 All of Van's gluten-free foods have the same great taste as before, just in prettier packaging!
So, do you want to win a free box of Van's Gluten-free frozen breakfast food? I have 3 coupons to give away – each coupon is good for 1 free box of Van's Gluten-free breakfast food. Here is how to enter:
1. Become of fan of Gluten-free is Life on Facebook and leave a comment telling me you did = 1 entry.
2. Follow me on Twitter and leave a comment telling me you did = 1 entry
3. Leave a comment telling me what your favorite breakfast food is.
This contest will run until Tuesday at midnight – I will announce the 3 winners on Wednesday morning. Good luck!
*********************************************************************************************
A quick recap of the busy week:
P.F. Chang's is offering 15% off on Thursday, April 15th. Perhaps a change is needed in my menu plan for some Singapore Street Noodles.
McCormick recalls fajita seasoning due to undeclared wheat & milk.
Barney Butter is an excellent peanut-free alternative.
Whole Foods recalls tuna fin steaks.
I reviewed Rocky Mountain Organic Meats – great grass fed beef & lamb.
Redbridge Beer is being reformulated.
Gluten-free Chatter is on the rise.
Recipe: Aaron's Chicken Soup with Rice.
I hope you all have a great week!! Don't forget to check out Orgjunkie for lots more menu ideas.