If you have been gluten-free for any longer than a week or so, you know what my title is referring to. Pasta is a hard thing to replicate gluten-free. I don't even notice any more that I am eating gluten-free pasta – it is just what I eat. I have become accustomed to it. It is good, don't get me wrong, but is it the same as the gluten-filled pasta? I am sure there are many who can't stand gluten-free pasta and refuse to eat it. I think it is all about finding what kind you like or can tolerate, if you want to eat pasta bad enough. There are so many choices on the market today, I find it hard to believe that there isn't something out there for everyone.
Tinkyada -Brown rice pasta. Probably the most well known in the gluten-free market. Does very well with cooking, over-cooking & baking. Can be frozen & reheated without disintegrating.
DeBoles– Made from rice and rice & corn. This pasta is okay. I use it when there is nothing else available. It is very easy to find in grocery stores across the country.
Mrs. Leeper's– Pasta made from corn or rice. I have never been a huge fan of Mrs. Leeper's, but it may just be that I buy Tinkyada or Trader Joe's most of the time. I have had the corn pasta & it is decent. Because I haven't used it a lot, I can't report on the reheating texture of the pasta.
Ancient Harvest -One of my favorites. Made from quinoa & corn. Higher in fiber than the other gluten-free pastas and a more in-depth flavor. All of the corn flours used are organic & non-GMO. Cooks & reheats well.
Glutino– Rice pasta. I have had this once or twice and it was much like the DeBole's. Not bad, but not fantastic.
Bi-Aglut-Made from corn starch, potato flour, lupin flour & lupin protein. This pasta is amazing! It is also very $$ compared to the other pastas out there. I have only had this once or twice because I can't bring myself to spend the $$ when Tinkyada, Trader Joe's or Ancient Harvest are very good.
Notta Pasta-This is rice pasta, much like what is used in Thai dishes. I have now had this with marinara sauce & a stir fry that I made last night. The noodles are very good and they absorb the flavors that they are cooked with. There are different shapes – I was sent complimentary samples of the fettucine & spaghetti to try.
Trader Joe's – Rumored to be Tinkyada in Trader Joe's labeling. I don't doubt it, as it is very similar in taste & I couldn't tell the difference if you placed them side by side. This pasta is made from brown rice.
Do I have any favorites? Yes, but different pasta for different dishes. I like Ancient Harvest, Tinkyada or Trader Joe's for traditional Italian dishes. I like Notta Pasta for Thai dishes, but it works well with marinara, too. For pasta salads, out of all of the above, Ancient Harvest is the best, but is not going to mimic gluten-filled cold pasta. It definitely has a much different texture when it is cold.
Here are a couple of dishes I made with the Notta Pasta.
This dish was awesome! I made it up as I went along. It contained:
Notta pasta
Chickpeas
Spinach
Roasted zucchini & mushrooms
Peanut Butter
Coconut Aminos
EVOO
White Wine Vinegar
Salt
Pepper
Sundried Tomatoes
It turned out so good!! I didn't measure the ingredients, I just created based on taste.
The next dish I made with the Notta Pasta: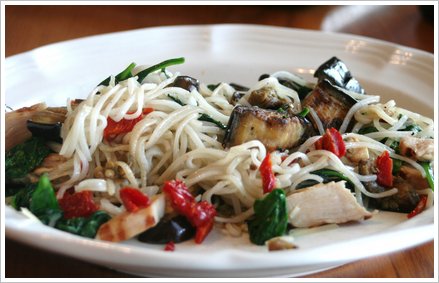 This was really good, too! It contained:
Notta Pasta
Chicken breast marinated in Italian dressing
Roasted eggplant
Spinach
EVOO
Salt
Pepper
Red pepper flakes
Red Hot
Sundried Tomatoes
Fresh grated parmeson
Again, so good! I love the noodles!! I will definitely be buying them in the future.
Do you have a favorite gluten-free pasta?