Foodbuzz sent me some samples of the new Soy Joy Blueberry bars as part of the Tastemaker program. I have always wanted to try the Soy Joy bars, but I had never bought one before, though I am not sure why. I think part of the reason is that I was not sure if soy was making my stomach feel off or not. I have determined that soy was not the issue, so while I can eat soy, I don't eat a lot of it.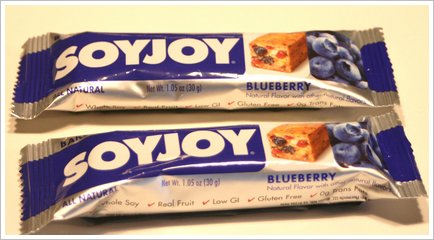 Soy Joy uses only non-GMO soybeans in their bars. The bars are comprised of a mix of real fruit & ground whole soybeans. They are minimally processed & then simply baked. Soy Joy bars contain no trans fat, no hydrogenated oils, no artificial colors or flavors & no preservatives. Each blueberry bar contains 140 calories, 4g protein & 4g fiber. As I was reading through the list of FAQ on the Soy Joy website, I came across this question that really interested me:
Why whole soy?
Answer:
SOYJOY® is made from ground whole soybeans to take full advantage of all of the nutritional benefits of whole soybeans. SOYJOY® does NOT contain soy protein concentrates, isolated soy protein, or any other highly processed soy ingredients. For more information on the benefits of soy, click on the soy benefits link.
I loved these bars! The picture on the package that you see above and can see here is exactly what the bar looks like. I meant to take a picture, but I was eating this on-the-go. I was really impressed with these bars. Jon happened to be hungry one day in the car and I had another one in my purse. I offered it to him thinking he would quickly turn it down, but he took it and started to read the ingredients and said he wanted to try it. He loved it and asked me to get some more! He asked what other flavors they made:
Blueberry

Mango Coconut

Raisin Almond

Apple Walnut

Berry

Peanut Chocolate Chip

Strawberry
I plan on picking up quite a few more of these to keep around and to send with him on his week-long trip to DC with his school. If I had to list 1 negative about the bar is that it is a little small, but then again, I was pleasantly surprised that it held me over until my next meal.
Where can you find Soy Joy bars? You can enter your zip code at the top of the page here. I know that I have seen them at my local Walmart for $1. They new Blueberry bars debuted in April, so they should be on the shelves. now.