I received some frozen entrees from CedarLane to review a couple of weeks back. While I was excited to try the products, all 6 of the entrees had onions in them, so I passed them along to a friend, Lindsey to sample & review. These reviews will be in Lindsey's words. Lindsey started her gluten-free journey just about a year ago. Here is some background on Lindsey:
"I remember my GI symptoms starting in high school. The doctors wrote this off as IBS over several years and chalked it up to me being stressed. About a year ago, my problems got exponentially worse. I found myself in the hospital 3 times with Gastroenteritis. The doctors gave me pain medicine and IV's and I wasn't allowed to eat solid foods for a few days until my stomach lining repaired itself. I got to the point where almost every time I ate, I was sick. I ended up trying to eat as little as possible so I could avoid the stomach pains and the other issues! In less than 3 weeks, I lost 18 pounds. I had seen my family doctor, my Ob-GYN and was then referred to a GI specialist. He too said my problems were merely stress induced and gave me some medicine to basically slow down my digestion so my body had a chance to absorb some of the nutrients in my food. Well that obviously had no effect and did nothing to help! After talking to Aaron and Megan about my symptoms, even the ugly ones :, they both recommended that I get tested for Celiac. I asked my doctor and he did a blood test which was inconclusive and sent me to a different specialist for an endoscopy and colonoscopy – ugh no fun! They found evidence of gastroenteritis but did not positively confirm Celiac as the two are apparently similar "looking" in the intestine. He did suggest trying a GF diet to just try it as it could just be an intolerance or allergy, not Celiac, especially since none of the other meds he tried had worked. So I gave it a shot (but was a little skeptical about trying something that they didn't actually diagnose). But at this point, I could barely get up to go to work so I had to try anything I could! I was miserable.
I messed up a LOT at first but have gotten much better at grocery shopping and eating out. I have YOU to thank for that – I have learned so much from you and following your blogs and reading your Examiner articles. I don't know where I would have even started if it weren't for you and Aaron. Now, I have no IBS, my Iron is back to normal and I feel like absolutely, totally, 100% a new person. I actually have energy and don't need a nap every day after work. I always felt like why am I always tired and my friends and family would have to drag me to do stuff because all I wanted to do was nap – and be within eyeshot of a bathroom! Now, I feel totally free! Even if I'm never diagnosed as Celiac, eating Gluten Free seems to be the best, healthiest decision, I've made."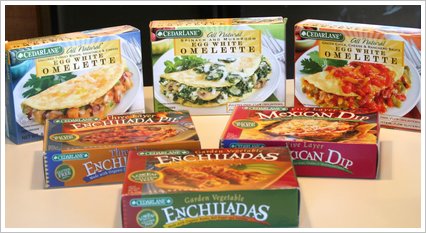 Garden Vegetable Enchiladas: I picked the enchiladas because when I tried the Amy's brand, I was really grossed out by the weird smell! So I thought these might be similar…but I was pleasantly surprised. It was really good. I heated it in the microwave and it actually looked very similar to the picture on the outside (which usually doesn't happen!). The inside was great with crunchy veggies and melted cheese. I think the part the impressed me the most is the sauce on the outside. It had a great flavor but wasn't too strong – and it didn't smell strong either. I'm especially impressed that the sauce was so rich & flavorful since it's low fat!
Three Layer Enchilada Pie: This was the three layer dip. I brought in some tortilla chips and made a lunch out of it and it filled me up. This would be good for a meal or a snack. You could even put it on corn tortillas and make a little enchilada out of it. But I liked it as the dip on chips. The only thing about this that wasn't appetizing was the overload of refried beans. I can't usually eat a lot of them any way but I felt like there was a LOT in this. Some people may like it more than me but it seemed overpowering. The cream cheese was a really nice touch to the traditional cheeses and salsa. It was very tasty and Mexican! Just the right amount of green chiles too. Very good flavor. 🙂 I did this in the microwave and when it was done, the edges had burnt. This is the only one that really burned so much. I'm guessing putting them in the oven would be a good way to prevent that!
Egg White Omelette Spinach & Mushroom:I had this for lunch and it was really good. The best way to describe it was like spinach artichoke dip with egg whites. There was a bunch of cheese which really complimented the taste of all the spinach. They really packed it full of the "filling". The mushrooms were good too – they had a nice texture despite being microwaved. I was super impressed with this one. I thought it would be hard to beat the enchiladas but I think this might be my favorite. I didn't think to compare the calories but this one "felt" more healthy : Delicious – definitely one I will buy on a regular basis!!
Egg White Omelette – Turkey Bacon, Vegetable and Cheese: I was not super impressed with this meal. The bell peppers were overpowering compared to everything else, and I typically like peppers. The egg whites and potatoes were very bland which would have been better if the pepper wasn't so much. And the turkey bacon was kind of chewy/tough. I think the dish would be better either with some other flavors/veggies (or no veggies at all) just because the peppers were all that you really tasted. I didn't even finish the whole thing – which is highly unlike me!! 🙁
Egg White Omelette – Green Chile, Cheese and Ranchero Sauce: Ok – they did MUCH better on this one. It had lots of flavor (good flavor)! The egg whites were fluffy and the filling was the perfect mix of cheese with chile and cheeses…gooey and yummy inside. The ranchero sauce was very good! Pretty similar to the enchilada I had the other day. This was like a little Mexican breakfast for lunch. There were quite a bit of chiles in there but surprisingly they weren't overpowering. This was so much better than the turkey bacon omelette! Maybe I'm just a sucker for Mexican dishes…??
Five Layer Enchilada Pie: I liked the way they stacked up the layers – it seemed more hearty than a regular enchilada for some reason. I put a little bit of sour cream on top and loved it. The sauce tasted different than the enchiladas but I'm not sure if it was that, or the different ingredients that made it taste different. I loved the black beans and the green chiles. I'm a little leary of frozen tomatoes for some reason usually they just have no taste but these were really good and actually had some flavor. I think the only thing that wasn't great was the tortilla got a little mushy. I think that could have been my fault for heating in the microwave though. I'm guessing if I did it in the oven, it would have baked more evenly!
Thank you Lindsey for such a wonderful & thorough review of CedarLane products! For my readers – Lindsey is a frequent taster/sampler for some of the products I receive or food that I bake or cook. Megan, who I have also mentioned in the past, also works with Lindsey & Aaron and has been gluten-free for 12+ years. I will have to see if she would like to share her story here, too. Megan also has 2 sons with Celiac Disease.
Thank you CedarLane for the products! Lindsey thoroughly enjoyed them! CedarLane products can be found by entering your zip code here. Cedar Lane is having a contest right now. Enter here to win free CedarLane food for one year for your family!