When I was at the Expo in Atlanta this past March to pick up my half marathon bib and swag, I sampled some tart cherry juice. Of course the sales/demo person was just spewing the benefits of the juice faster than I could listen, but that was his job. The juice was very good and very expensive. I filed that information in the back of my mind.
Fast forward to my shopping trip last night. First, I went to the store for Lactaid and completely forgot to get it. Nice, huh? There was no way I was walking all the way back in and to the back of the store, either! HA! My legs and right foot are improving, but they still hurt. Anyway, I had a coupon for R.W. Knudsen Juices and the Just Tart Cherry happened to be on sale (and gluten-free)! Score! I picked some up figuring that if the benefits of tart cherry juice are true, it may help me recover from my marathon a little quicker.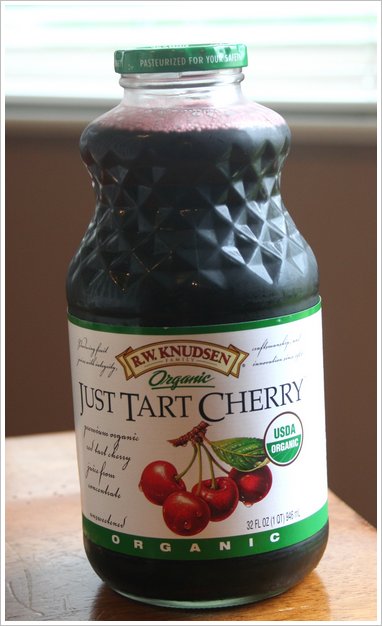 The rumored benefits of tart cherry juice are due to the anthocyanins and antioxidants in the cherries. Tart cherries have even more antioxidants than blueberries! Anthocyanins have anti-inflammatory properties and eating 20 tart cherries (or drinking the equivalent) a day could have the same effect as taking an ibuprofen or aspirin for pain relief. Tart cherries have also been found to contain high levels of melatonin, which is produced naturally in the body. Melatonin can help slow aging and promote sleep. More information on the benefits of tart cherries can be found here or here.
I am sure you noticed that I said "rumored benefits". I said that because the FDA and the cherry industry are not in agreement on this. That is a shocker! LOL!
I figured that it can't hurt to drink the tart cherry juice, right? Not only that, the juice is darn good! I just had a glass of the Just Tart Cherry while writing this post and am thinking about getting some more! This juice is not low in calories, it contains 130 calories per 8 oz, so drinking more than 4 – 8 oz per day is not advisable. I typically get my calories from food and not drinks (unless you count wine 😉 ). One 8 oz serving does count as a serving of fruit.
While I am in this recovery phase, I am really trying to focus on getting as many nutrients into my body as I can. The way I look at it is the faster that I can recover, the faster I can get back out there & run! 🙂
R.W. Knudsen has a large product line of juices. I am actually interested in trying out the Very Veggie, which contains water, carrot, beet, spinach & red grape juice concentrates.