I have a new love. No, I am not leaving my husband, as he is the love of my life, my new love is a bagel. Specifically, an Udi's gluten-free bagel. I have had many a gluten-free bagel and not one of them lives up to Udi's. Not only are they the best gluten-free bagel out there, but they are becoming more & more available across the US. The bagels can be ordered online or found in Whole Foods and other health food stores. Some lucky people are able to get them at Einstein's, though I believe this is only happening in Colorado. You can read my complete review of Udi's bagels here.
What I like best about Udi's bagels:
no need to refrigerate

no need to toast

great for travel – just take along single packets of peanut butter & you have breakfast

can freeze for longer storage and then defrost on the counter

6 grams of protein; 3 grams of fiber; 280 calories per bagel
Sundried Tomato Pizza Bagel
1 Udi's Gluten-free Bagel (or as many as you need for 1 bagel per person)
Prego Three Cheese Sauce (marked gluten-free)
Mozzarella Cheese
Sundried Tomatoes – chopped
Fresh basil (I was out, so I used dried, but this would be much better with fresh)
1. If your bagel is at room temperature already, then begin by spreading the sauce on the bagel. If your bagel is frozen, defrost on counter or in the mircowave or lightly toast.
2. Top with mozzarella, chopped sundried tomatoes & basil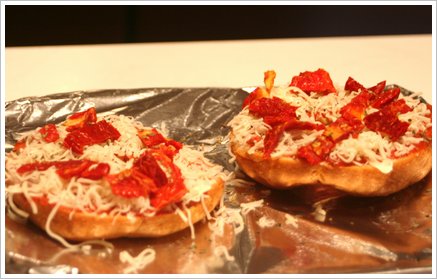 3. Bake at 375 for 5-7 minutes until warm and then broil until bubbly & melty.
4. Enjoy!
This recipe is so simple & can be modified to fit your likes. I could add so many more yummy toppings, but there is only so much room on a bagel. Some other toppings ideas are:
black olives

banana peppers

crushed red pepper

chopped spinach

parmesan cheese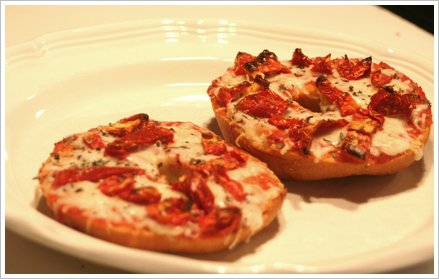 I paired this with an extremely large salad and a glass of chardonnay. Perfect end to a Friday.
Watch for lots more fun ideas using Udi's bagels to come! I love to create and what better to use as a blank canvas than my new love?
**Sending a thank you out to Udi's for the complimentary bagels! We really enjoy them!