Better Batter has a wonderful line of gluten-free baking mixes. Better Batter Flour was created by Naomi Poe in 2006 after both her her children and husband were found to have gluten sensitivity. Naomi was tired of paying too much for baking mixes only to have them taste odd. She took matters into her own hands and her friend liked her flour mix so much that she offered to buy it and Better batter was born!
More from Better Batter:
Our Philosophy…

At Better Batter, we believe that you should eat freely.

We believe that everyone should eat real-tasting food, using regular recipes, at reasonable prices.

We're committed to developing and marketing the very best in gluten free products, and we pledge to do everything we can to meet your dietary needs in an affordable manner.

From reduces shipping on case lots, to wholesale prices for bulk flour purchases, to our FreeFlour Rewards Program, you'll always find ways to save money.

At Better Batter, we believe that we should give freely

We know that there is so much more to life than the bottom line.

We believe that we should give freely of our time, knowledge, and financial resources, both to the gluten free communities and the world beyond.

Our Commitment To You…

Here at Better Batter, you'll find someone to listen, continually updated educational resources, and links to the best gluten free resources on the Internet.

We're committed to giving the first portion of our net profits: to scholarships for those in financial need, charitable contributions, and corporate partnerships/grants for your local gluten free support organizations.

Feel free to contact us at any time with questions, suggestion, or new recipe requests. We look forward to hearing from you.

Thanks!

Naomi and the Staff
Better Batter was kind enough to send us some complimentary samples of their products. We received the Fudge Brownie Mix, Flour Mix and Pancake & Biscuit Mix.
I made the Brownie Mix first. I couldn't not keep my hands off of these brownies. Perhaps I was thinking carb loading for my marathon? I don't know, but I had to send some into Aaron's gluten-free friends at work in order to keep the brownie eating in check. There are directions on the box to use 2 or 3 eggs depending on if you like your brownies fudgy or cakey. I am a fudgey brownie gal, so I only used 2 eggs. Even my gluten eater, Hannah, loved these! A+++
I used some of the flour mix to make my infamous Pistachio Cheesecake. I served this to my family at our mother's day function to rave reviews. There was very little left over and Jon fought Lindsey for the few remaining pieces. **The crust crumbling was due to my not being able to get a picture until most of the pieces were gone & therefore attacked. 😉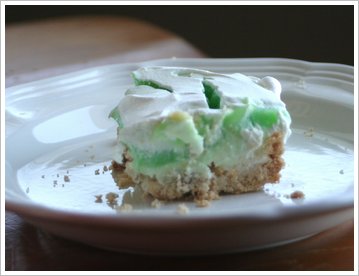 The pancake & biscuit mix is a huge hit in our house. Jon loves to eat pancakes before school, so we make a batch on the weekend and then freeze so he can have a quick breakfast that he can make all by himself in the morning. He usually tops with Aunt Jemima, but always has to ask for some kind of chip (butterscotch seems to be a favorite) and whipped cream. I try to reserve those for special occasions, much to Jon's dismay.
Better Batter products are all free of gluten, dairy, egg, soy, peanut, sesame, seafood (fish and shellfish), GMO. Better Batter can be ordered online at the Better Batter site, Amazon.com or found in stores across the country. I was pleased to see that my Whole Foods was carrying Better Batter the last time I was there. If you are unsure what to make with your Better Batter, make sure to check out the recipes on the website.
Now, it is time for the fun stuff! Would you like to win a Better Batter Product Sampler? Okay, here is how to enter (you can do one or more for extra entries, just use a separate comment for each extra entry):
1. Follow Gluten-free is Life on Facebook.
2. Tweet about this giveaway and make sure to include @kbouldin and the link to the giveaway.
3. Leave a comment telling me what you would make with your Better Batter samples.
4. Follow me on Twitter and leave a comment telling me you did.
5. Blog about this on your blog & link back. Leave a comment telling me you did.
The giveaway will end at midnight on Monday (Memorial Day). I will announce the winner Tuesday.