I was pleasantly surprised to see the new Gluten-free Bisquick arrive on my front porch the other day. Live Gluten Freely sent me out the sample to review (I received this item as a complimentary sample). There are many recipes on the box and the Live Gluten Freely/Bisquick website, but I had scones on the brain. Not only did I have scones on the brain, but I had blueberries in my fridge that I needed to use before they went bad. At least my pants weren't on the ground. 😉 (If you didn't watch American Idol this year, you have no clue what that meant and I apologize. Now on with our scheduled programming.)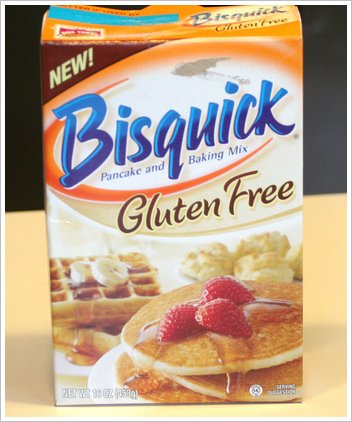 Gluten-free Bisquick is slightly different from "normal" Bisquick. There is a FAQ page to help with any questions or issues you may be having. There is no shortening in the Gluten-Free Bisquick, as there is in the "normal" Bisquick. Heidi, from Adventures of a Gluten-Free Mom, took matters into her own hands and made her own GF Bisquick using the store bought Gluten-Free Bisquick and then adding shortening and storing that way. Now she can use her GF Bisquick mix cup for cup in all of her old favorite recipes. The ingredients for the Gluten-Free Bisquick are:
Rice Flour, Sugar, Leavening (baking soda, sodium aluminum phosphate, monocalcium phosphate), Modified Potato Starch, Salt, Xanthan Gum
Want to find Gluten-Free Bisquick near you? Click here to see the closest store.
Now, the good stuff. Blueberry Scones. I had never had a scone until last fall when I made pumpkin raisin scones and I was quickly addicted. Of course it didn't hurt that one of my favorite ingredients was one of the star ingredients – pumpkin. 🙂 Blueberries are right up there, too, so I was on the hunt for a good recipe. I happened upon this recipe from Stonyfield and modified it to fit my needs.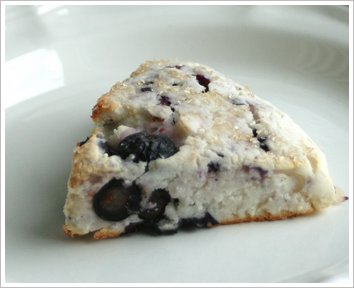 Gluten-free Blueberry Scones
2 cups of Gluten-Free Bisquick
1 1/4 cups of Greek plain yogurt (I used Yoplait)
1 cup blueberries (recipe recommends frozen, but I used fresh; they get a little squished, but they are still yummy)
Glaze:
3 TBSP butter, melted
2 TBSP Sugar in the Raw
Directions:
1. Preheat oven to 425 degrees. Check to make sure the oven is at proper temperature before baking the scones.
2. Measure out GF Bisquick into a large bowl. Add yogurt and blueberries.
3. Mix with a fork. Dough will be sticky, but should turn coarse.
4. Lightly flour a cutting board with a little GF Bisquick; turn dough onto the board and lightly knead 5 – 6 times.
5. Form the dough into a circle about 10 inches around.
6. For glaze – spread butter over the top & sides and sprinkle sugar on top. (I didn't use the butter, I just sprinkled the sugar on & patted down)
7. Cut circle into 12 wedges and place on a non-stick cookie sheet covered with parchment paper. Leave about an inch in between pieces.
8. Bake for about 15 minutes or until golden. Do not over bake.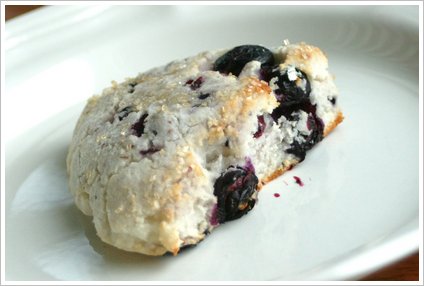 So, the verdict? These rocked!!! WOW!!! The texture is perfect! These have virtually no fat, unless you add the butter on top, and still have less than 4g/fat per scone then. If you notice, I did not add any sugar to this recipe. The Stonyfield recipe does call for a 1/4 cup of sugar, but since the GF Bisquick contains sugar, I did not feel the need to add it. However, if you like a sweeter scone, you may want to consider adding that 1/4 cup of sugar in. Also, I halved the recipe so that I would have some GF Bisquick left to make something else with.
I can't wait to make pancakes, waffles or biscuits with the rest of my Bisquick! Have you tried the new Gluten-Free Bisquick?
Editing to add that if you click here, you can enter for a chance to win a free box of Gluten-Free Bisquick!