When I got my October 2010 issue of Cooking Light in the mail this month, I stopped in my tracks as I drooled over the Peanut Butter Banana Bread on the front cover. I knew right then & there that I would have to make that bread – and soon. Peanut butter & bananas are a classic combination. Elvis loved peanut butter & banana sandwiches, so I have no doubt that this bread would be a favorite of his.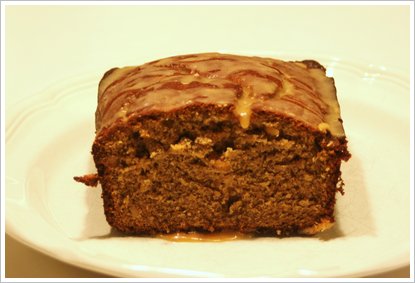 One of the reasons that I love Cooking Light is that they take decadent foods and make them healthier. Some people get scared when they hear the words "healthy" and "food" together in the same sentence. Healthy food doesn't have to be tasteless, boring food. As I often preach about the gluten-free diet – a diet is what you make it. There are so many wonderful, healthy foods out there; sometimes we just need to take our blinders off to find & experience them.
This recipe is so simple! With roughly 200 calories, 4.7g protein, 7.4g fat and almost 2g fiber per slice (16 slices per loaf), pair this with a bowl or a piece of fruit and an egg or egg white and you have a nice start to your day.
BREAD:
1 1/2 cups mashed ripe banana
1/3 cup plain fat-free yogurt (I used Fage 0%)
1/3 cup creamy peanut butter (I used Skippy Natural)
3 tablespoons butter, melted
2 large eggs
1/2 cup granulated sugar
1/2 cup packed brown sugar
6.75 ounces all-purpose flour (about 1 1/2 cups) (I used King Arthur's Gluten-Free Flour)
1/4 cup ground flaxseed (I used Bob's Red Mill)
1 tsp xanthan gum
3/4 teaspoon baking soda
1/2 teaspoon salt
1/2 teaspoon ground cinnamon
1/8 teaspoon ground allspice
2 tablespoons chopped dry-roasted peanuts
Cooking spray
GLAZE:
1/3 cup powdered sugar
1 tablespoon 1% low-fat milk (I used skim, but almond milk should work just fine)
1 tablespoon creamy peanut butter
1. Preheat oven to 350 degrees. Spray a 9 x 5 bread pan with Pam.
2. Measure out flour (using a kitchen scale is key), flaxseed, xanthan gum, baking soda, salt, cinnamon, and all spice. Combine in a bowl & set aside. Chop peanuts and set aside.
3. Mix first five ingredients together with a mixer on medium speed. Add sugars & blend well.
4. Add flour mixture and mix just until blended. Stir in peanuts.
5. Pour into pan and bake at 350 for 55 minutes or so. Toothpick should come out clean. Oven temperature is key here – if you don't have a thermometer to monitor the temperature inside your oven, consider buying one. It will be the best $10 you ever spend. I found out that my new oven was 25 degrees off. Now I can adjust and not over or under cook anything.
6. The original directions say to cool for 10 minutes on a wire rack & then remove the bread from the pan. Being the rebel that I am (Ok, maybe I just forgot), I let my bread cool completely & then removed it from the pan. This worked just fine for me. I didn't even need to run a knife along side of the edges.
7. Combine the powdered sugar, milk & peanut butter in a bowl with a whisk until smooth; drizzle over the bread.
8. Hide Serve bread.
This is the link to the original, non-gluten-free recipe.
This recipe completely exceeded my expectations. I love peanut butter and I love bananas, but I had no idea that this bread would leave me drooling for more. The only thing that could make this bread better? Chocolate. Either dark chocolate chips or maybe even a dark chocolate peanut butter glaze instead of just using peanut butter in the glaze. I bet that Hershey's Special Dark Cocoa would be an excellent addition to that glaze!