As I was lying in bed this morning, not wanting to venture out into the cold room, I was brainstorming about what warm, comforting breakfast I could make. I knew that coffee was first on the list, but wasn't sure what I would eat. I remembered that I had a bunch of gluten-free instant oatmeal from Glutenfreeda and Organic Honeycrisp apples from Whole Foods and I came up with an amazing warm, fall breakfast!
First I chopped up my apple and placed it in a bowl topped with lots of cinnamon. I microwaved that for 2 minutes, then stirred, then cooked for another 1 – 2 minutes. Once the apple was "cooked", I removed it from the microwave and put the oatmeal in. I cooked the oatmeal according to package directions, but added some cinnamon on top. I chose the Natural "flavor" so I could taste my own creation. After the oatmeal was cooked, I added in the apples & stirred. I decided it needed something else. Enter Trader Joe's Pumpkin Butter. Tossed in a spoonful and that was exactly what it had been missing.
In my recent quest to get more iron in my diet, this was a good start for the day with 15% of the RDA just in the oatmeal.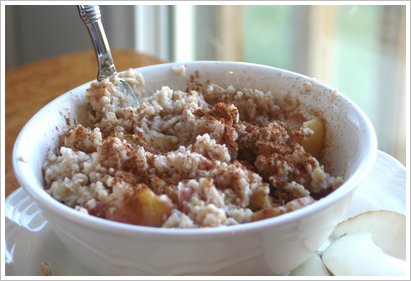 This breakfast warmed me right up in a matter of minutes! Loved the fall flavors all in one big bowl, too. Hopefully this will hold me over until lunch time. 😉 If you haven't tried Glutenfreeda's Instant Oatmeal, you should give it a try. This whole breakfast took me less than 15 minutes to prepare from start to finish. Had I not been messing around, I probably could have done it in under 10 minutes. If you can't find it in a store near you, Amazon.com has the oatmeal here. It is $30.77 for 8 boxes; each box has 6 packets in it. That is 48 servings for $30.77 for $ .64/serving. What a great deal! The shipping is free with the Super Saver Shipping option.