If any week is crazy, it is this one. Interesting that I don't feel all that stressed. Hmmmm… Maybe a touch of "the calm before the storm" going on here. We are hosting Thanksgiving dinner again this year, something I love to do. We purchased a 20 lb turkey and have begun the process of getting all of the details figured out. When to make the pies, the cornbread, the cranberry sauce, etc. I am planning on doing as much as I can in advance so that we can do more socializing and wine drinking on Thanksgiving day. 😉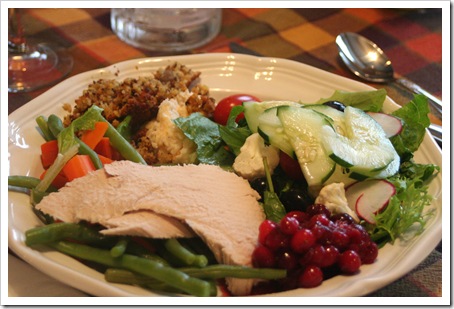 Food that I will be preparing:
Cornbread
Veggie & Cheese Trays
Turkey
Steamed Carrots, Green Beans & Broccoli
We will also have (brought by family):
I am so excited! Several of us will be participating in a 4 mile race the morning of Thanksgiving. No better way to create a calorie deficit than to run before the meal! There will also be mass shopping on Black Friday to work off the rest of the meal and dessert. 😉
Sunday – Butternut Squash Soup & salad
Monday – Battered Chicken Fingers, baked steak fries, asparagus & salad
Tuesday -Taco Tuesday, black beans, corn & salad (Jon's gotta have those tacos)
Wednesday -I am thinking take-out
Thursday – The Big Meal
Friday – Leftovers
Saturday-More Leftovers
Baking
Lemon bars (new mix to sample & review)
Cornbread
Pumpkin Pies
I wish you all a wonderful Thanksgiving and hope that you will be able to spend it with those you love.