Did you see Elisabeth Hasselbeck on Martha Stewart's show this week?  She was on Thursday.  I set my DVR to record the show and watched it back later.  I was unsure what to expect as I haven't been overly impressed with Hasselbeck in the past, but wanted to go into this with an open mind.  Hasselbeck talked a little about Celiac Disease, how many people are diagnosed and how many are walking around undiagnosed.  Martha mentioned that maybe she should be tested, as she doesn't feel well after she eats bread, though she doesn't eat it often.  My favorite part of the show was the cookies.  Flourless chocolate cookies.  I will be making these Flourless Double Chocolate Pecan Cookies this week for sure.  If you missed the episode, you can see it here. 
In lieu of meal planning this week, I think I am going to serve Gluten-Free Drumsticks every night. 

  If you missed my post about the ice cream sundae cones, make sure to head over here to check it out.  Me thinks that the kids would be thrilled if I really did this.  In their dreams, right?  I will be picking up some Magic Shell today at the grocery store to see if that improves the treat.  Can't wait to experiment!  What a way to carb load for my long runs, right? Wanna see a picture…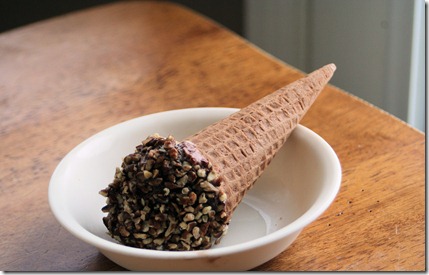 Still freezing where you live?  It is here in Ohio.  I hear the south has gotten a reprieve – may they send some of that warmth up north.  I'll take 50 degrees – anything above 30 would be nice.  March and Spring Break can not come soon enough. 
Dinner Plan
Sunday – Breakfast for dinner
Monday – Baked macaroni & cheese, baked beans and salad
Tuesday – Taco night, refried beans, corn & salad
Wednesday – Bourbon chicken, brown rice, broccoli & salad
Thursday – Leftovers
Friday – BBQ pulled pork in the crockpot (hockey at dinner time), sweet potato fries and salad
Saturday –Mellow Mushroom & salad
Baked Goods
Flourless Double Chocolate Pecan Cookies
Biscuits
***********************************************************
Weekly Recap
Whole Foods upcoming gluten-free events. 
T.G.I.Friday's adds gluten-free menu.
Enjoy Life's cookies are now even tastier! 
Applegate Farm's gluten-free products.
Schar breaks ground on a new US facility.
Kinnikinnick Box O Chocolate Contest
Hope you all have a wonderful week!!  I hear we are due for another snowstorm mid-week.  Yipppee!!