Did you all enjoy Shirley's guest post yesterday?  I know that I did.  Today I would like to introduce Amy of Simply Sugar & Gluten-Free.
Baked Quinoa Pudding with Raisins
This is my gluten-free, refined sugar-free, healthier take on traditional rice pudding.
It's funny how food works in my life…I seem to love the foods that keep me close to my roots. Not that the dishes don't grow and change over time, because they do, but somehow cooking the foods I grew up with keeps me connected to where I came from.
That's the case with this dish. My dad had a sweet tooth and rice pudding was one of the foods he loved. My Grandma Ruth would often make it for him when she came to visit. I remember my dad standing at the kitchen counter eating right out of the baking dish. He rarely bothered to put his rice pudding in a bowl. It drove my mom crazy but that never stopped him.
As a kid, I never appreciated the addition of raisins to rice pudding. Today, though, I love the texture and flavor they add. Depending on what I have on hand, I use currants, golden raisins, and even dried cranberries too.
I updated my Grandma's recipe using quinoa instead of rice. Quinoa is often considered a grain but it's actually a seed and packed with nutrition. It's a complete protein and contains phosphorous, potassium, magnesium, and iron among other important vitamins and minerals.
I serve it for dessert and, since it's a healthy dish, I eat the leftovers for breakfast. Sometimes I even stand at the counter and eat it right out of the dish just like my dad did.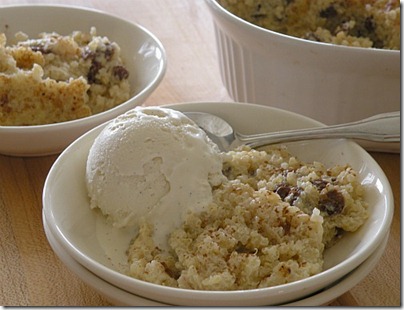 Baked Quinoa Pudding with Raisins
makes 6 to 8 servings
from Simply Sugar & Gluten-Free: 180 Easy & Delicious Recipes You Can Make in 20 Minutes or Less
1 1/2 cups cold water
1 cup quinoa
3 eggs, lightly beaten
1 1/2 cups low-fat milk
1/2 cup half-and-half
1/3 cup agave nectar
1 teaspoon vanilla extract
1/4 teaspoon kosher salt
1 cup raisins
1/2 teaspoon ground cinnamon
1/2 teaspoon freshly grated nutmeg
berry sauce or ice cream (optional)
Preheat the oven to 325°F. Set a kettle of water to boil for the bain-marie (water bath). Once it boils, reduce the heat and keep the water very hot.
Pour the 1 1/2 cups cold water into a heavy-bottomed medium saucepan and bring to a boil. Meanwhile, rinse quinoa in a fine mesh strainer until the water runs clear. Once the water in the pan is boiling, add the quinoa, cover, and reduce heat to a simmer for 15 to 20 minutes, until all water is absorbed. Remove the pan from heat and let the quinoa cool slightly.
While the quinoa is cooking, whisk together the eggs, milk, half-and-half, agave, vanilla, salt, and raisins. Mix cooled the quinoa into the egg mixture. Pour the pudding mixture into a 1 1/2- to 2-quart casserole dish. Make a bain-marie by placing the filled baking dish into a larger, steep sided 4-quart casserole dish that's set on a large baking sheet. Put the baking sheet with the pudding in oven and, with the oven door open, pour hot water from the tea kettle into the larger casserole dish until it's halfway up the side of the pudding dish. Bake for 25 minutes.
While the pudding is baking, mix the cinnamon and nutmeg together in a small bowl. After 25 minutes, stir the pudding and sprinkle the top with the cinnamon and nutmeg. Bake for another 25 to 35 minutes, until a knife inserted in the middle of the pudding comes out clean.
Carefully remove the pudding and the bain-marie from the oven. Remove the smaller dish with the pudding from the larger dish and let cool slightly on a wire rack. Serve warm or cold plain, with a berry sauce, or with ice cream. Store covered in the refrigerator.
Make It Dairy-Free: Use your favorite nondairy milk instead of cow's milk and use full-fat coconut cream or other rich nondairy milk instead of half-and-half.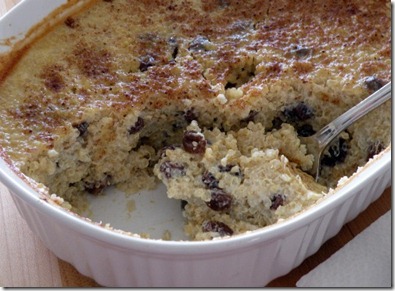 Amy Green, M.Ed., authors Simply Sugar & Gluten-Free, (www.SimplySugarAndGlutenFree.com) a blog about eating well, eliminating refined sugars and wheat, and maintaining a healthy weight. Her first cookbook, Simply Sugar & Gluten-Free: 180 Easy & Delicious Recipes You Can Make in 20 Minutes or Less, has been on Amazon's best seller lists since its release in February 2011.
Amy has been living free from white sugar and wheat since 2004 and, as a result, is maintaining a 60+ pound weight loss. Over the years she's learned that eating healthier doesn't equal deprivation. She was recently interviewed on Martha Stewart Living Radio, Talk 980 USA, appeared on Channels KTEN and Channel 33 News, was featured in The Plano Profile, and will be in the April Edition of D Magazine. She is a field editor for Healthy Cooking Taste of Home, freelance writer, does recipe development, and teaches local sugar-free, gluten-free baking classes. Amy lives with her husband and four dogs in Dallas, TX.
---