Today we are going to learn about more from another runner & Ohio blogger – Katie!  Welcome Katie! 
Hi Gluten-Free is Life Readers!! I'm Katie from Healthy Heddleston and am excited to provide you with a quick guest post while Kim is visiting family —hope you're having fun!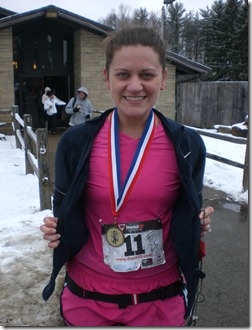 My Transition to Gluten-Free Lifestyle
About three years ago, I started noticing a lot of abdominal discomfort when I ate certain foods. The discomfort was very off and on and the intensity of the discomfort varied depending on what foods I ate. At this time I was in school to become a Registered Dietitian. It wasn't until about two years ago when my discomfort started getting really bad that I went to the GI doctor, was diagnosed with gluten intolerance/pre-Celiac, and started the gluten-free lifestyle.
The last two years have been a whirlwind. I started this gluten-free life style and all that comes with it, finished up my schooling and became an RD, got married, moved, and started my own business. Things have been crazy but I wouldn't want it any other way!
Staying Active While Being Gluten-Free
Among all the hustle and bustle of life and learning to eat a new way, I've always placed an importance on having an active life. I was a "sports girl" growing up, but it's kind of hard to find enough players to fill a volleyball court! I took up running about a year ago and will never look back now! I've completed two half marathons thus far and have two more on the schedule in the spring. An active lifestyle helps me in so many ways; I hope you benefit from staying active as well!
A Favorite Gluten-Free Recipe
I love experimenting with gluten-free cereal in recipes – and love that they make great breadcrumbs! This recipe is one of my favorite creations! I hope you enjoy it too!
Cheesey Meatloaf Balls
Ingredients for Balls
1 pound of ground turkey meat
1 cup crush gluten free crispy rice cereal
1/2 cup Parmesan cheese
1 egg
1/4 cup ketchup
1 cup shredded cheddar cheese
1 teaspoon garlic salt
1 teaspoon parsley
4 scallions, chopped
Dash of pepper
Ingredients for Glaze
3/4 cup ketchup
1/2 cup brown sugar
1/2 teaspoon garlic salt
Instructions
Preheat oven to 375 degrees.
Combine all of the ingredients for the balls. Mix well.
Roll ball mixture into 12 standard meatballs or 24 mini meatballs.
Combine and whisk together all ingredients for the glaze.
Gentle apply glaze to each meatloaf ball with a pastry brush.
Bake for approximately 30 minutes or until cooked thoroughly.
Thanks for having me guest post Kim! I hope your readers enjoyed learning a little about me!