Please welcome a very special lady to many of us in the gluten-free community – Jules Dowler Shepard.  Not only is Jules a brilliant baker & cook, but she is a great friend.
People often ask me how I got started in the gluten-free business. It's a question that always makes me pause. It's not an easy answer, but I'm clearly where I'm supposed to be.
Life takes its twists and turns, and sometimes you just have to let go and get taken on that ride.
I was raised to be a Southern Woman – I know how to be genteel when I want to be, and I sure do know how to bake. From Easy Bake Oven to my college dorm toaster oven, I have always baked treats to share. The baking part is what I loved, not necessarily the eating part. That's served my hips well since I have always enjoyed baking sweets more than savory meals!
Aside from the social benefits of spreading cookie and cake love to those all around me, I've come to realize that baking is a stress reliever for me as well. In graduate school to become a lawyer (boy did I go down the wrong path, there!), it was my habit to leave the library at the wee hours of the morn, and come home to wind down … by baking! I did so much baking, in fact, that it became expected that I would show up each day with treats to share! The school café eventually invited me to sell my baked goodies there, and thus began my first-ever taste of baking as a career.
Meanwhile, my health had taken a turn for the worse in college and I could not seem to get well, despite the efforts of expert physicians and myriad tests. Doctors eventually threw up their hands and diagnosed me with IBS (Irritable Bowel Syndrome) – the catch-all diagnosis given to people with chronic gastrointestinal distress. I was simply told I needed to eat more fiber (i.e. wheat and bran).
Fast forward a decade later. I was working as a prosecuting attorney in domestic violence — one of the most stressful jobs I could imagine – and my health became even worse. A new doctor eventually put all my symptoms together — chronic sinus infections, migraine headaches, iron-deficiency anemia, IBS symptoms – and properly diagnosed me with celiac disease. I finally understood all these health problems, and I seemingly had the solution: living on a gluten-free diet. However, I had no idea how to live gluten free.
I struggled for a few years with the depressing reality that I could no longer eat lunch out with my co-workers, I sat with an empty plate at Thanksgiving, and I could not bake anything palatable any more. At some point though, I decided that I could no longer live that way. I bought as many gluten-free flours as I could get my hands on and decided that I had to find a way to create just ONE gluten-free all purpose flour so that I could return to my old favorite recipes.
It literally took me two years of experimenting in my kitchen, but I finally succeeded and at last was able to make all my family recipes again, without anyone missing the gluten! When I met my first celiac friend a while later, she encouraged me to compile my recipes in a gluten-free cookbook so that others could benefit from my philosophy and my hard-earned learnings in the kitchen. This encouragement was the impetus for my first book, published in 2006: Nearly Normal Cooking for Gluten-Free Eating. In this book, I also shared my original homemade all purpose flour recipe, which earned the attention of such media as The Washington Post and Woman's Day.
I soon began hearing from folks who loved the book and my flour recipe, but who didn't want to have to mix the flour themselves, so I embarked upon yet another adventure and began manufacturing a new all purpose flour mixture for all those who wanted the perfect ready-made gluten-free flour.
My second book, The First Year: Celiac Disease and Living Gluten-Free, came out in 2008, and gave me the opportunity to share my story of success with celiac disease, as well as the stories of others' transitions to this medically-necessitated diet. My third book and labor of love — Free for All Cooking — was just released in the fall, and takes gluten-free cooking to another level, teaching readers how to modify recipes to make them gluten-free as well as free from other food allergens, when necessary.
My flour business is now a flour and mixes business (Jules Gluten Free), and three books plus 7 e-books later, I am a busy author and blogger as well (Blog.JulesGlutenFree.com). But through it all, I remain a gluten-free consumer who buys food, shops the aisles and eats at restaurants just like everyone else living gluten free.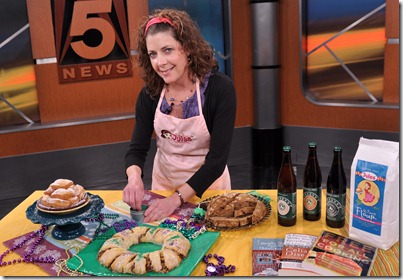 It has mystified me that in this day and age, with food allergies as rampant as they are and with the incidence of celiac disease and gluten sensitivity as frequent as it now is (gluten sensitivity is now believed to affect as many as 18 million Americans, and celiac as many as 3 million Americans), that there is no federally regulated standard for "gluten free" on food labels.
It seems everyone knows someone who has been sickened, or has been sickened themselves from gluten contamination. So why is it that we do not have an established level of gluten on foods so that we as gluten-free consumers know which foods are deemed "safe"?
In 2004, Congress passed the Food Allergen Labeling and Consumer Protection Law (FALCPA) to protect food-allergic and celiac consumers from having to decipher ingredient listings. The law, which requires the top eight allergens (including wheat) to be clearly listed on ingredient statements, did not require disclosure of barley or rye — the other grains that are toxic to those with celiac disease and other gluten sensitivities. The 2004 mandate for the FDA to develop and implement gluten-free food labeling requirements would fill that void … but the FDA has not seen fit to meet that mandate yet. It has been seven years since FALCPA passed and we still are without a federal standard for "Gluten Free." This is inexcusable.
My friend John Forberger (@GlutenFreeTri) and I were speaking of this travesty last fall in the midst of a conversation where he had challenged me to make the world's largest gluten-free cookie. As we joked about the spectacle that would be, we realized that maybe this kind of attention-grabbing event was what was needed to highlight the FDA's inaction. Maybe by doing something on a grand scale, we could point out that the FDA has done nothing on ANY scale to help the gluten-free community, despite the Congressional mandate under FALCPA.
Such began our brainstorming session which has culminated in the event we announced today – 1in133 – The Gluten-Free Food Labeling Summit – in Washington DC on May 4 (kicking off Celiac Awareness Month). We are building the world's tallest gluten-free cake, which will be unveiled at our VIP reception for federal lawmakers, concerned members, friends and supporters of the gluten-free community and gluten-free food manufacturers. Noted experts like Dr. Alessio Fasano, of the University of Maryland Center for Celiac Research will be featured guest speakers, and the petition signatures of the thousands of gluten-free consumers who care about food labeling will be presented as well. We are thrilled to have sponsors signing up every day in support of this event and this movement. Already, event sponsors include Whole Foods Market, The University of Maryland Center for Celiac Research, The University of Chicago Celiac Disease Center, the Gluten Intolerance Group of North America and many, many others. Individuals have been making pledges and bloggers are already united to gather as many petition signatures as possible to prove the importance of gluten-free food labeling and the numbers behind the movement.
Anyone can help our cause, simply by signing the petition, by donating in increments of $11.33, and by joining our Facebook Causes page. Sharing information with others is also key to this event's success. We only have 5 weeks and we have a lot of work to do to show the FDA that we are watching and that we are mobilized to make a difference!
I'm thrilled to be a part of this movement and to be helping to make a difference for my friends in the gluten-free community. This is truly where I am supposed to be.
~jules
I am so excited about this event 1in133!  I can't wait to do my part to try to get as many people as I can to sign the petition.  Will you help spread the word & gather signatures?