Are you sitting down?  Are you ready?  I tried the new gluten-free Rice Krispies!  Yes, they do "snap, crackle & pop" just like the Rice Krispies we know & love!  Hallelulah!  I received 2 boxes to sample yesterday and tore right into the first box.  I am saving the second box to make gluten-free Rice Krispies Treats in the very near future.  I'll make sure to update you on how those are once I sample them.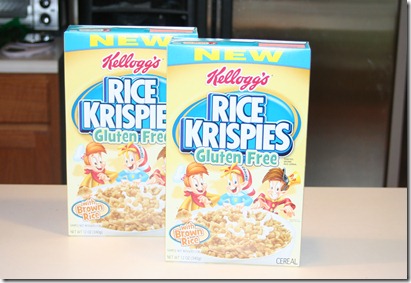 While it has been a long time since I have had the original version of Rice Krispies, these tasted just like I remembered them tasting!  Kudos to Kellogg's for recognizing the need for gluten-free products in the market place!  Jon asked for a bowl the following morning.  He poured the milk on and there was the familiar "Snap, Crackle, Pop" rising up from the bowl.  He sat down and took his first bite.  The words out of his mouth were "These are awful!"  I started to giggle.  This is coming from the boy who is a sugarholic, so don't freak out yet.   I told him that the beauty of this cereal was the low sugar, only 1 gram per serving!  He was not amused.  I grabbed the bag of sugar and sprinkled a teaspoon or so over his bowl.  He mixed it in and took another bite and was satisfied, "Much better!"  I love to top my Rice Krispies with fresh fruit like strawberries, blueberries & bananas.  Natural sugars that make a great pairing for a healthy breakfast.
To find the new gluten-free Rice Krispies close to you, click here.  They should be available across the country this summer.  Make sure to keep up with all the newest information by "Liking" Rice Krispies on Facebook.
****I received these boxes free of charge to sample & review.  The opinions stated here are my own & my son's and have not been influenced by anyone or anything.