Go get this stuff.  Now.  It is freakin' amazing!  Ciao Bella Blackberry Cabernet Sorbet = heaven on earth.  I know I usually profess my love for all things chocolate here on my blog, but I will make exceptions for items that contain wine.  When shopping at Whole Paycheck Foods last week, I noticed that the pints of Ciao Bella were on sale 2 for $6.  Yeah, not a huge sale, but good enough for me!  I picked up the Blood Orange, which I reviewed here and the Blackberry Cabernet Sorbet.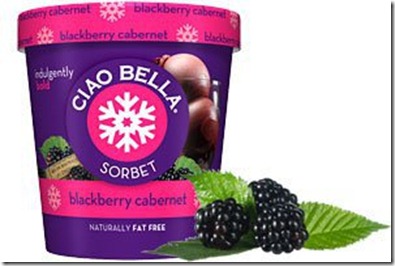 (Source)
The ingredients are simple:
BLACKBERRIES, ORGANIC EVAPORATED CANE JUICE,
CABERNET, WATER, LEMON JUICE, PECTIN.
The most important ingredient is in bold face and is the 3rd ingredient listed.  My likey.  I honestly didn't expect to like this as much as I do.  I expected to like it, for it to be a refreshing treat on a sticky hot day, but not to wake up thinking about it and planning trips across town to Whole Foods to get more. 
Cian Bella offers a wide variety of flavors, but not all of them are gluten-free.  Take care when purchasing and read the label, as it will be clearly marked "gluten-free".  More ingredient and flavor information can be seen here. 
Have you tried any of the Ciao Bella products?  If so, what did you try?  Do you have a favorite?