When gluten-free restaurant chains have a gluten-free menu, you have to wonder how consistent the process is across the country or their areas of service.  Sometimes you find that things are done by the book and don't really vary from place to place much at all.  Other times, even though there is a gluten-free menu in place and that menu is the same at all of the locations, the consistency or quality of the food is not. 
One of the places that I have visited in multiple states that appears to be extremely consistent is Mellow Mushroom.  I have now been to locations in Ohio, Georgia & South Carolina.  All of the locations use Still Riding Pizza crusts as their base and have a list of ingredients printed up on the menu that are gluten-free.  Due to the way their kitchen works, ingredients that aren't on that list are not guaranteed to be gluten-free. 
Mellow Mushroom Myrtle Beach, SC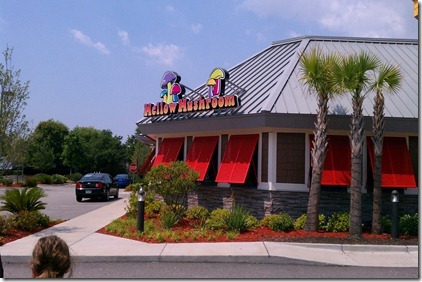 Mellow Mushroom always has the most unique designs and I have yet to see 2 alike! 
The menu: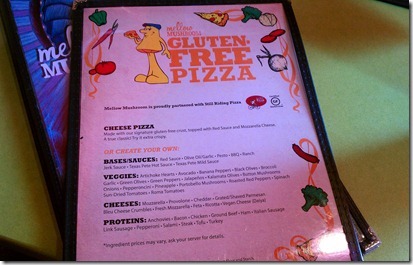 Because we were not going straight home and there is no way I can eat the pizza by myself, I opted for a salad.  The staff was very knowledgeable and even informed me that they didn't guarantee the greens were gluten-free due to how the salads were prepared.  They went above & beyond (as all MM locations have) and opened new packages for me and made my salad in a separate area.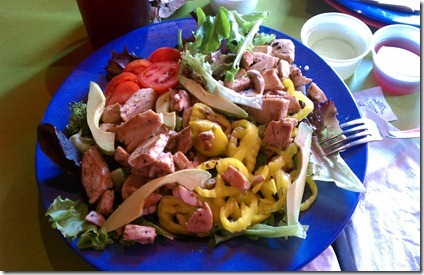 They certainly didn't skimp on ingredients….there was plenty of chicken (3-4 oz), tomatoes, mushrooms, banana peppers, avocado and I asked for the feta on the side because I knew they would bring a lot – it was a huge bowl!  I had oil & vinegar on the side, which our server informed me she also got from a brand new container.  A++ on the experience, as always!  I love how they offer the opportunity to "Build Your Own Salad".  Mine ended up costing under $12, which is standard for a large, dinner salad in most restaurants.  Additionally, this kept me full all afternoon, which isn't a small feat. 

Do you have a restaurant that consistently provides a great experience?  If so, what is it?