When I was first asked if I wanted to do a review of Hint Naturally Flavored Water I was on the fence.  I normally drink plain old water and I like it.  In fact, 95% of what I drink is water.  The other 5% is coffee, almond milk & wine.  Once I found out that Hint doesn't have any artificial sweeteners in it and has zero calories, my ears perked up.  Seriously?  I had to try this stuff.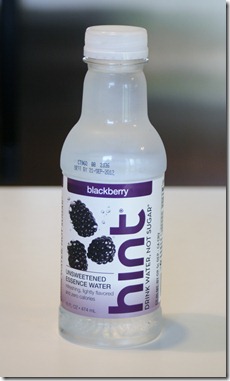 Hint comes in 10 different flavors.  Those flavors are:
Cucumber
Blackberry
Raspberry-Lime
Watermelon
Pomegranate-Tangerine
Honeydew-Hibiscus
Mango-Grapefruit
Lime
Strawberry-Kiwi
Pear
I was able to sample 6 flavors of Hint (the ones in bold) and I loved them all!  These could not have arrived at a better time!  The summer weather is here to stay and it is hot & humid.  These are a perfect way to cool off at the end of a long day.  I loved that these literally have a hint of flavor without being sickeningly sweet.  There was no sugar residue or aftertaste lingering in my mouth.  They were all very refreshing!  I think the Mango-Grapefruit was my favorite. 
More about Hint:
The idea behind Hint is simple: pure water, nature's original refreshment, accented with a hint of natural flavor. No sugar, no artificial sweeteners: Hint is a refreshing alternative to sodas, juice and other sweetened drinks and it tastes great.

Sound good? It tastes even better.

We thank you for trying hint, hope that you and your family enjoy it, and wish you excellent health.

Kara Goldin
CEO, Founder
Hint, Inc.
Hint is sold in many stores across the US or online.  I love that both Whole Foods & Starbucks carry Hint, as I happen to frequent them both, much to the dismay of my wallet.  Amazon also sells Hint and if you choose to be part of the Subscribe & Save program, it is a little cheaper.  The bottles seem to cost approximately $1.83 each, $44.00 for a case of 24 or $22.00 for a case of 12. 
Have you tried Hint water?  Do you have a favorite refreshing summer drink?
*The products review in this post were sent to me free of charge to review.  The opinions stated here are mine and have not been influenced by anyone or anything. 
Kim