When I was sent some samples of Al Fresco Chicken Sausage,  I was very excited.  I am not a huge fan of hot dogs,  but these really appeal to me.  I have seen these many times in the store,  but never picked them up before.  A little more about Al Fresco:
al fresco. It's all about fresh flavor from fresh ingredients. Our mission is to provide delicious all natural products that are easy to prepare as part of a healthy lifestyle – live life with flavor. Executive chef, Susanna Tolini revels in introducing our customers to a whole new way to enjoy chicken sausage- from scrumptious unexpected flavors such as Roasted Pepper & Asiago and Spinach & Feta to great, easy recipe ideas for all of our 14 al fresco gourmet flavors.

Our roots are grounded in over 100 years of quality sausage making. Al fresco's founder, Deb O'Donnell is the granddaughter of Kazimierz Monkiewicz who in 1909 sold his handmade sausage out of a horse drawn wagon and started Kayem Foods. Kayem is now a premier manufacturer of some of the country's leading brands of meats including al fresco.

While studying for her MBA, Deb saw a need that wasn't being met amongst her fellow female classmates – a delicious tasting sausage that was also good for you. Hence the light bulb that is al fresco was lit and armed with her sausage making heritage and savvy grasp of customer needs, Deb started developing recipes for an all natural, delicious and healthy chicken sausage.

al fresco is now the #1 chicken sausage brand in the U.S. We offer our all natural chicken sausage in dinner and breakfast varieties. All of our products have 70% less fat than pork sausage and are free of nitrites, nitrates, preservatives and artificial ingredients, but full of flavor.

Just as Deb's idea for al fresco came from listening to her classmates, we continue to listen to our customers every day. We'd LOVE to hear from you. Be it a new flavor idea, a recipe, a compliment or healthy criticism, we want to hear it all so that we can continually surprise and delight you, our customers.
Al Fresco has nine varieties of chicken sausage.  Those varieties include:
Buffalo style
Roasted pepper & asiago
Sundried tomato
Chipotle chorizo
Spicy jalapeno
Sweet apple
Roasted garlic
Spinach & feta
Sweet Italian
All of the chicken sausage varieties are gluten-free,  making them a great choice for those with Celiac disease.  With summer in full swing,  what better way to enjoy it than a good meal with chicken sausage on an Udi's hot dog bun? 
I have tried the roasted pepper & asiago,  sweet Italian style and sweet apple varieties and love them all!  They each have a unique flavor and can be paired with different foods to make the meal tie together nicely.  For example,  I paired the sweet apple chicken sausage with sweet potato fries and a salad.  We haven't tried the chicken meatballs yet,  but I will make sure to let you know when I do.  Here is another example of a meal I created with the sweet Italian style –  I chopped up the sausage and added it to a bowl of brown rice,  sauteed mushrooms,  zucchini,  okra & brown rice.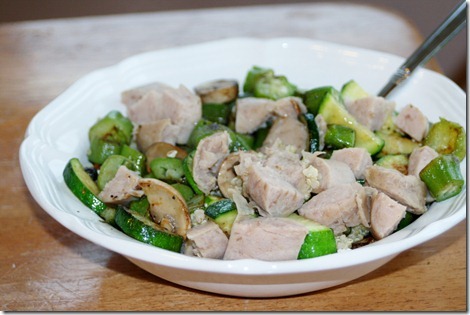 Al Fresco products can be found in stores across the US. 
Have you tried any of the chicken sausages from Al Fresco?  If so, which kind? 
***I received the above products free of charge for review.  The review posted here is my opinion and was not influenced by anyone or anything. 
Kim