When I signed up for the Emerald City race, I signed up for the quarter marathon.  I knew that the Columbus Half was my goal race, so EC would be a training run.  Then one of my pace coaches with MIT talked me into the half.  No biggie, 2 halves in 6 weeks, I could do it.  I then planned on using EC as a training run.  Then my training was going well and I decided that maybe I could actually race EC and get a new PR.  My current PR is 2:01:22. 
When I went to bed Saturday night, I tried to focus on my breathing & drift off to sleep.  There was nothing more I could do at that point to improve my race, so no point in obsessing about it, right?  I fell asleep only to be awoken by storms at 12:30 AM and dear Hannah freaking out.  Mean mom that I am, I gave her 2 choices.  1.  Go back to sleep in my bed or 2.  Continue to whine and get your butt back in your own bed.  She opted for #1, but had to be threatened reminded a few times. 
I got up at 5:00 AM and began to get ready.  The storms were on the way out, so I was hopeful the race would go on.  I ate a quick bowl of Rice Chex as my pre-run fuel.  I have been practicing with dry cereal since January for pre-run fuel and as one of my MIT coaches preaches "Nothing new on race day".  The key for me seems to be little to no sugar, but carbs.  Kix, Rice Chex, GF Rice Krispies all work for me.
As I was driving to Dublin, saw lightning off in the distance and said a quick prayer that the race would go off on time.  The later the race went off, the hotter & more humid it would be.  The race did indeed start at 7:00 AM with a light rain.  If you run, you know that a light rain is nice in temps like we had today.  While I didn't originally think it was humid out, I soon discovered that I was wrong. 
I train using HR (heart rate) training.  This method has me keeping my HR in certain zones, not running at a pre-set pace.  My HR was not happy with the humidity and then came the hills.  I tried to keep my HR in the zones I was supposed to, but it was hard.   The middle miles of the race took us through a metro park that had a lot of ups & downs. I was able to pick up the pace after mile 9-10, but once I found out that I wasn't going to PR, I pulled back a little.  No point in killing myself when I have another race in 6 weeks that will most likely be much cooler and flatter, which should = a better chance at a PR. 
This was my 4th half marathon & my 2nd fastest.  I am very proud of my time and my performance!  While it is discouraging that I didn't meet my goal of a new PR, I finished and am feeling pretty good right now.  I need to focus and figure out how to goof-proof my plan for the Columbus Half in October.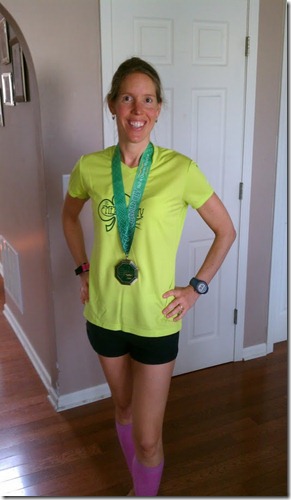 Oh, and the medal is HUGE!!  I smacked myself in the head with it when I bent over to take my shoes off!  OUCH!! 
One note I do want to touch on, if you ever get the chance to volunteer for a race, please do.  Many of my friends volunteered today and were at the first and last water stop.  It was such a huge boost of energy to see their smiling faces.  I will never forget that.  Thank you to all of the volunteers – without you, a lot could have gone wrong. 
My official time: 2:06:39. #407 out of 727 total and #31 out of 62 for my age group.
---
The winner of the
Peeled Snacks
giveaway can be
viewed here
.  Thanks to all who entered!