Phew…what a week that was.  Friday started out a normal day and then ended with us in the emergency room with Hannah.  After dinner on Friday night Hannah began to complain of stomach pain.  While I love Hannah dearly, she tends to complain of the littlest aches & pains so I don't always jump when she says something hurts.  She is a little like "The boy who cried wolf".  I asked if she had used the bathroom and she said yes.  I asked her to show me where it hurt and she pointed to her belly button and off to the right.  Okay.  I didn't think much of it at the time and went back to folding laundry & cleaning up the kitchen. 
A short time later Hannah was still complaining, so I told her to head up to my bed, she could sleep with me, and I would be up in a minute.  In the meantime, Aaron had asked me which side the appendix was on and I said the right.  I, too, had been thinking this in the back of my head.  I had just finished a book about a little boy that had appendicitis, but his was missed and he ended up very sick and almost died.   He looked up some information online and I headed upstairs.  I had Hannah lay down and I pressed on her lower right side.  She jumped!  I told her to get her shoes, we were going to the Children's Urgent Care up the street.  I think I freaked her out a bit, so I spent the trip to the urgent care calming her down. 
We got right in and back to a room, which is really odd, but I wasn't complaining.  The doctor came in and I gave him the run down.  He did an exam, looked at me and shook his head yes.  He sent us downtown to the Children's hospital because they didn't have the CT scanner at the urgent care to confirm, and if it was positive, as we expected it to be, Hannah would have to go downtown anyway.  Aaron met me at the urgent care and we headed downtown. 
The urgent care doctor had called ahead so we were placed in a room in the ER relatively quickly.  That was the only quick thing about this entire journey.  We were in the ER for 7 hours.  We arrived around 10:30 and they were taking their computers down for 8 hours at midnight (a once a year occurrence – lucky us!).  Everything would have to be hand written.  After umpteen residents and doctors came in to evaluate Hannah, a CT scan and blood work confirmed that Hannah had appendicitis and would need surgery.  Her pain had intensified and by 2 AM or so, so I asked for some pain medication for her.  Once they made the decision to admit her, things moved a lot faster.  We were taken upstairs, seen by a resident surgeon and placed on the list for surgery on Saturday morning. 
Hannah had a successful appendectomy on Saturday morning and was home less than 24 hours after her pain began.  What a whirlwind!  She had no other symptoms other than that stomach pain that began on Friday night.  The doctors said they normally don't catch it this early and that we did the right thing by bringing her in when we did.  Her appendix was definitely inflamed/infected when they removed it.  This poor girl has had quite the year!  First, the broken arm & surgery to repair in June and now this!  Hopefully this recovery is a bit easier than the arm recovery.  She will be out of school for most of this week, but we hope she can continue the PT with her arm so as to not miss out on the window of opportunity to gain her ROM back. 
Needless to say, my menu planning didn't quite get done, so I am cooking out of the freezer this week.  There were also a couple of meals from Pei Wei & Chipotle, my go-to gluten-free take-out places. 
Here is Hannah waiting for surgery – they have internet TV in the rooms, so at least she was entertained when she wasn't sleeping.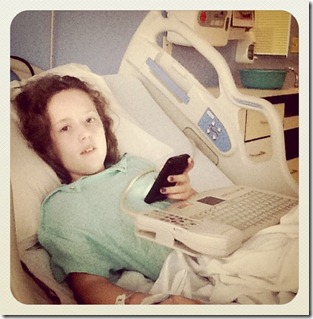 ---
Things I have in the freezer to cook:
chicken breast
ground turkey
edamame
bacon
Enchilada bake that I made & froze last week
Fridge:
Pantry:
potatoes
quinoa
rice
pasta
Prego sauce
tuna
Trader Joe's GF Mac & Cheese
I think that the theme of the week is simple. 
---
Don't forget to enter my
giveaway
that ends tonight for
Stephanie O'Dea
's "
Totally Together Journal
".