How is it Sunday again already?  Wasn't it just Monday?  My day today started off with me breaking a wine glass before 8:00 AM.  No, I wasn't going for a cocktail, but my coffee filters.  The coffee filters happen to be in the same cabinet as my wine glasses.  Perhaps it is time for a change.  Nothing like cleaning up glass in bare feet & my bathrobe.  Wake me up when September ends.  This picture of Hannah from a few years back reminded me what is coming up!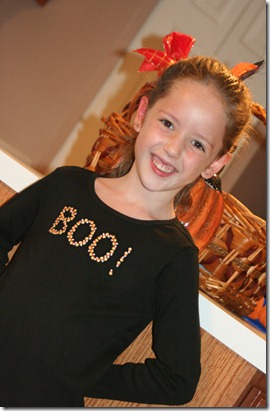 Thankfully September ends this week.  Saturday is October 1st.
Sunday – Rotisserie chicken or Chipotle – the way my day started out, I am placing bets on Chipotle.
Monday – Garlic & dill salmon, coconut baked rice, roasted broccoli & salad
Tuesday – Enchiladas (a GF version of this) and salad
Wednesday – BBQ pulled pork, baked potatoes, green beans & salad
Thursday – Spaghetti with marinutta sauce, roasted zucchini and salad
Friday –MYOP with Kinnikinnick pizza crusts and salad
Saturday – Pei Wei takeout
---
Hoping to get some
banana bread
made later today for breakfast this week.  I am thinking about making them into muffins for easy serving or grabbing & going. 
---
Remember to head over to enter to win the
Yoplait "do the swap" giveaway
! 
Kim